NEW YORK ― "It's New York, but we don't get a royal every day," said the well-dressed woman behind me in line for the Sarah Ferguson event in Manhattan on Monday night.
The Duchess of York's stop by The 92nd Street Y was part of a continuing media tour on behalf of her newest book, "A Most Intriguing Lady," and Americans jumped at the rare chance to see a royal stateside.
The crowd was a mix of high-society types, interested Upper East Siders and anglophiles, along with reporters (like me) ready to see if Fergie would answer questions about Prince Andrew in front of a live audience (she did, sort of).
From the moment she stepped on stage, Fergie held court. Both disarming and charming, she shouted out those in attendance ― like her godson and many friends ― and claimed her daughters had called and asked them to attend the talk to support their mother.
She bantered with audience members and even engaged with her publishing team (also seated in the audience) by repeatedly telling them she wants to write another book in her series.
"Lots to do. I'm just starting my life," the 63-year-old royal said, echoing a narrative that would emerge throughout the night, as this felt like an attempt at a comeback tour of sorts for the duchess.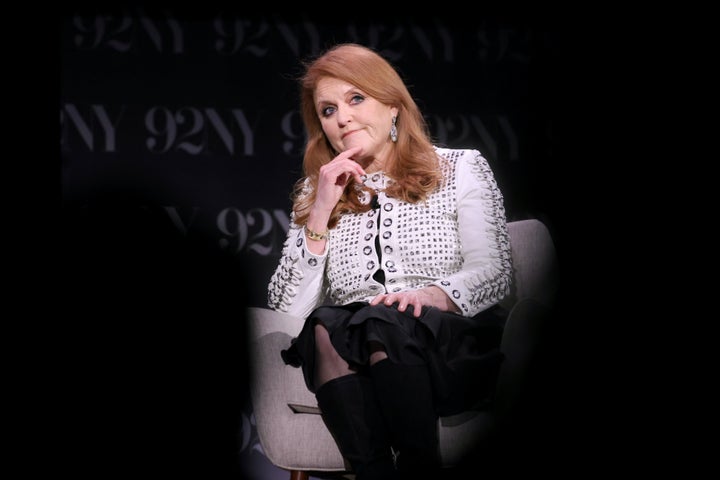 One of the things she wants to do is act. While Meghan Markle famously gave up her acting career when she joined the royal family, Fergie is now looking to get back into the entertainment business, with hopes that Hallmark will come calling.
The duchess recalled to moderator and Glamour Editor-in-Chief Samantha Berry that she had been "thrilled" to make a cameo on "Friends" in the 1990s.
"Now people come up to me and go, you were in 'Friends'!" she said. "And then I decided definitely that I'm going to go on a Hallmark film."
The duchess certainly knows how to hold a crowd, making faces and casting knowing looks at audience members to emphasize her points. And the audience held their breath when she was asked what she would tell herself before marrying into the royal family.
"Learn to play the game," Ferguson said. "And play it better."
"I was very young," the duchess said of marrying into the monarchy ― both a family and a family business ― at 26.
"I could've just sort of understood it better. I think I was so taken and so in love," she said. "I mean, can you imagine, 'Why me?'"
Fergie wouldn't get into specifics about what she regretted or would do differently. Instead, she offered up the sentiment: "You've got to hold people's dreams, but you must want to hold on to your own.
"And I wonder whether I was in my people-pleasing, trying too hard to please everyone else I'd forgotten perhaps to take more care and to be more aware," the duchess mused.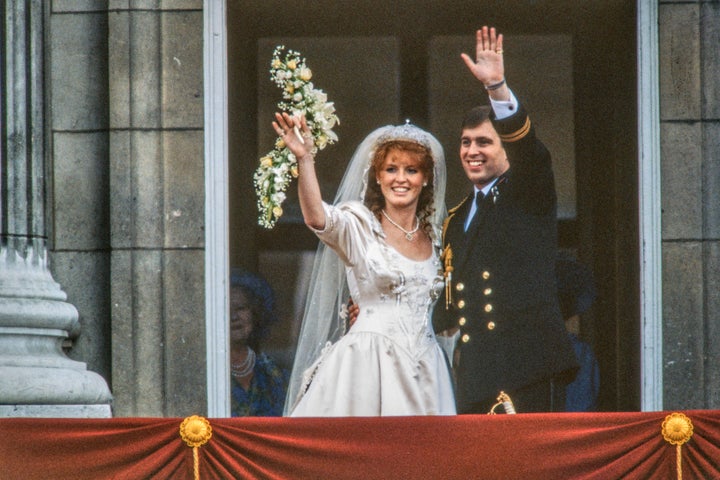 Though Fergie was candid about her vision for the future and what advice she'd give her past self, she was evasive on other subjects, like her disgraced ex-husband and anything to do with Prince Harry or Meghan Markle.
She twice answered questions throughout the night by pulling out pieces of paper to read quotes from the late Queen Elizabeth that she'd printed out.
When asked about her relationship with the Duke of York, Fergie pretended to look through the printout of quotes again and joked, "I must have another quote." She remained vague when she was asked about the two continuing to live together at Royal Lodge in Windsor.
The duchess ultimately responded by saying she didn't really live with him, as she instead lived "in the clouds." She clarified the statement by saying that she simply travels a decent amount. (Despite her occasional reluctance to call Royal Lodge her home, it's thought she's lived there since 2008. The couple officially divorced in 1996.)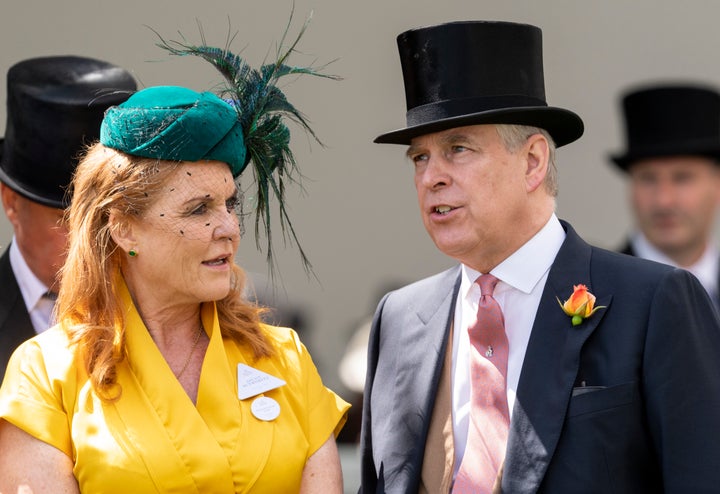 The crowd also went silent when Fergie said: "In 1986, I married a very good man."
Once again, the royal shied away from directly speaking about the sexual assault lawsuit that Andrew settled out of court last year or the numerous controversies he's faced over the past two decades. Instead, she said of her ex: "It's very sad to see the cruelty given to another."
The Duchess of York also dodged a question about whether or not she would give Prince William, Kate Middleton, Meghan Markle and Prince Harry advice on having a marriage in the public eye.
"I think the best way to answer that is to really take hold of your own self and lead by example," she said. "So I don't think I personally … I wouldn't give advice. I would say that your actions speak louder than words. And I feel really strongly about that."
When asked about changing her stance on royal life not being a fairy tale, which Fergie spoke about in an interview with Oprah Winfrey in 1996, the royal highlighted a slight grievance with her moderator.
"You're so funny, Samantha ― all these questions, they're loaded," Fergie said, as the audience laughed.
Ferguson was equally mum when asked if she anticipated scoring an invite to King Charles' coronation in May. It was confirmed over the weekend that Buckingham Palace recently corresponded with the Duke and Duchess of Sussex via email about the coronation.
"I'm traveling," Fergie said to more laughs, alluding to why, perhaps, she didn't have a firm answer regarding an invitation. "I'm not traveling on that date, but I'm traveling here now."
"Maybe [the invitation's] gone to another place," she said.
When a member of the crowd asked the same question about the coronation, Fergie answered with a simple "TBD."