A group of Senate Democrats reintroduced the Women's Health Protection Act on Wednesday evening — legislation that aims to codify federal abortion protections since the Supreme Court repealed its landmark 1973 ruling Roe v. Wade.
The legislation, sponsored by Democratic Sens. Tammy Baldwin (Wis.) and Richard Blumenthal (Conn.), aims to "protect a person's ability to determine whether to continue or end a pregnancy, and to protect a health care provider's ability to provide abortion services."
Senate Majority Leader Chuck Schumer (D-N.Y.) and President Pro Tempore Patty Murray (D-Wash.), along with Baldwin and Blumenthal, led 45 other Democrats in introducing the WHPA on the Senate floor on Wednesday evening.

"Republicans have ushered in a crisis—a nightmare for women, for patients, and for doctors alike—with their nonstop attacks on every woman's reproductive rights," Murray said in a statement. "They've passed one extreme abortion ban after the next, and as they fail to convince the American people to get on board with their extreme agenda, they've tried to force it on women across the country with threats, intimidation, and outrageous lawsuits."
Since the Supreme Court overturned Roe last year, around a dozen states have banned abortion care, and a dozen others are vulnerable to impending restrictions or bans on the procedure — making the WHPA a key piece of legislation for Democrats looking to proactively protect abortion access.
The WHPA would provide critical safeguards against these state bans and medically unnecessary hurdles, protect people's ability to travel out of state for abortion care, and ensure that abortion later in pregnancy cannot be banned if the life or health of the pregnant person is at risk.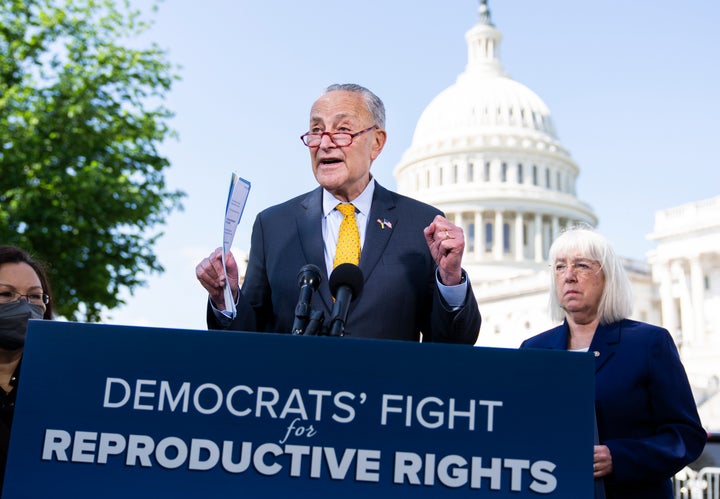 But this is the third time in the last decade that Democratic leaders have reintroduced the Women's Health Protection Act — and it's likely to fail again, given the Republican majority in the House.
The bill, originally introduced in 2013, was reintroduced in 2021 as a response to the looming potential demise of Roe. The WHPA passed in the House with historic support in September 2021, just weeks after Texas implemented a draconian measure banning abortion at six weeks and deputizing private citizens to enforce the new law. The bill died by filibuster in the Senate last February and again in May, days after the leak of the Supreme Court's draft decision in Dobbs v. Jackson Women's Health Organization, the case that eventually led to the repeal of Roe.
The WHPA failed to advance in the Senate last year even after Democrats stripped the bill of legislative findings that described the intersection of racism, classism and misogyny in abortion restrictions — an attempt to "attract the broadest possible support" from Democrats, Blumenthal told HuffPost last May.
The 2023 version of the legislation also leaves out these nonbinding findings, which are often used to help establish the intent of a piece of legislation and can be pointed to later if there are court challenges.
"In too many corners of America today, the far right's crusade to stifle the bodily autonomy of pregnant people is leading to disproportionate harm for non-white communities as well as LGBTQ+ communities," Schumer said in a statement. "This legislation writes into law that reproductive freedom and access to basic health care should be available to every American, not subject to the whims of an extreme party whose beliefs are out of step with a majority of Americans."