The actor gave a galvanizing speech on Thursday to encourage donations while accepting the Courage Award at a fundraiser for the Women's Cancer Research Fund. She grew tearful at a particular point in her speech.
"I'm a technical idiot, but I can write a fucking check," Stone told the audience, according to "Entertainment Tonight." "And right now, that's courage, too, because I know what's happening. I just lost half my money to this banking thing, and that doesn't mean that I'm not here."
It's not clear exactly what "banking thing" Stone was referring to ― whether it was related to the failure of Silicon Valley Bank, the resulting stock market slump or something else entirely. The regional lender collapsed in two days after a classic bank run last week in which swaths of customers withdrew their deposits. (BuzzFeed, HuffPost's parent company, banked with SVB.)
Stone, 65, was being honored for raising awareness about breast cancer. She spoke to a crowd in the Beverly Wilshire ballroom in Beverly Hills, California, that included Rebel Wilson, Maria Bello and Lori Laughlin. During her remarks, Stone chronicled her own health scares of the past.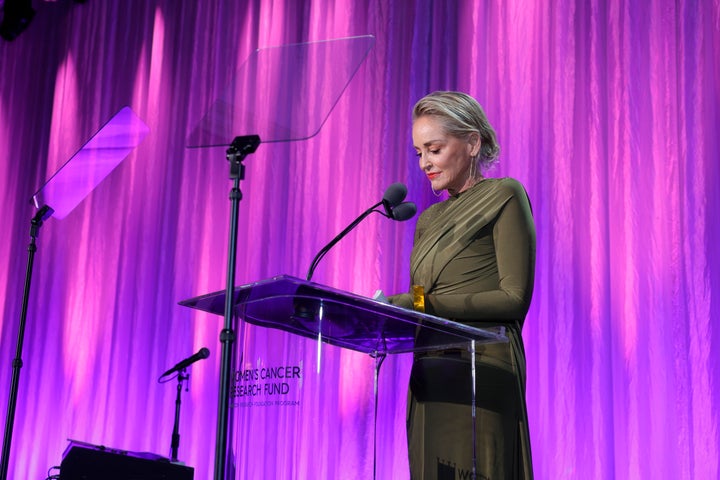 "Those mammograms are not fun," said Stone, per "ET." "And for someone like me who was told that I had breast cancer because I had a tumor that was larger than my breast and they were sure that I couldn't possibly have a tumor without it being cancer, it wasn't."
"But I went to the hospital, saying, 'If you open me up and it's cancer, please take both my breasts,' because I am not a person defined by my breasts," she continued. "You know, that might seem funny coming from me since you've all seem 'em."
Stone recently revealed she had breast reconstruction surgery in 2001 after doctors discovered "gigantic" tumors, according to The Hollywood Reporter. She urged the crowd never "not to get a mammogram, not get a blood test, not to get surgery."
The evening reportedly ended with a performance from Maroon 5, whose members donated the proceeds to the night's cause. Stone, whose brother recently died at 57 years old, concluded her speech in his honor — and with a rallying cry to fight for women's rights.
"My brother just died, and that doesn't mean that I'm not here," she said. "This is not an easy time for any of us … but I'm telling you what, I'm not having some politician tell me what I can and cannot do."
"So stand up," she said. "I dare you. That's what courage is."