Researchers are feeling joy and relief after locating a small forest bird that hadn't been documented since 1999.
The dusky tetraka is an olive and yellow ground-dwelling songbird that makes its home in the Madagascar rainforest. The bird was previously featured on the "top 10 most wanted" list of lost birds compiled by The Search for Lost Birds, a collaboration between the American Bird Conservancy, Re:wild and BirdLife International.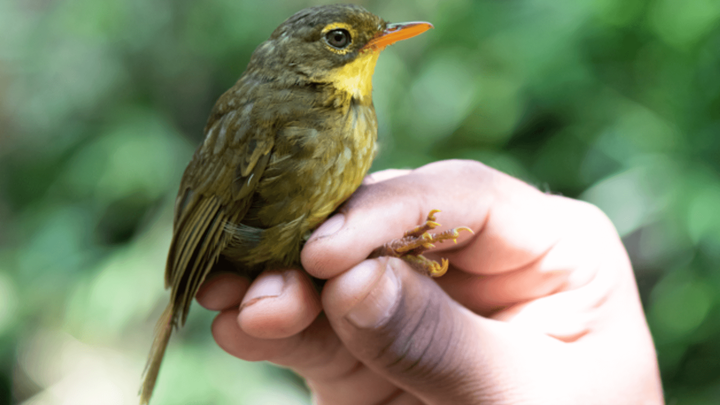 Two birds were caught and released unharmed. A third was identified via photograph, according to a press release from The Peregrine Fund and The American Bird Conservancy this week.
"Seeing the bird for the first time was truly a surprise," biologist Armand Benjara of The Peregrine Fund said in the release. "Our entire team was extremely happy and excited."
The search for the elusive songbird involved two different teams. Benjara's team captured and released one of the birds near a stream on the Masoala peninsula on the northeast part of the island.
Meanwhile, the other team drove more than 40 hours and hiked deep into the mountains to get to where the bird was last seen in the 1990s. But when they got there, they found that a large portion of the rainforest had been cut down and turned into vanilla farms ― even though it's supposed to be a protected area.
After no sign of the tetraka turned up, they switched their search to lower elevations, where they ultimately spotted one "hopping around in dense undergrowth" near a river and caught the bird on camera. They later caught and released an additional tetraka in the same area.
"Woweeee!" wrote ornithologist and expedition member John C. Mittermeier on Twitter. Mittermeier, the director of the American Bird Conservancy's lost birds program, said he felt "pure excitement and relief" at spotting the little bird.