WILMINGTON, Del. (AP) — President Joe Biden's choice to run the Federal Aviation Administration has withdrawn his nomination, a setback for the administration that comes after Denver International Airport CEO Phillip Washington failed to gain enough support in the closely divided Senate.
Washington's withdrawal was confirmed Saturday night by a person familiar with the situation who insisted on anonymity to discuss the matter. The White House did not immediately respond to a request for comment.
Republicans were united in opposition to Washington, calling him unqualified because of limited aviation experience. Democrats and allied independents still might have pushed the nomination through, but key senators on their side balked at supporting Biden's pick.
Washington's fate appeared settled when Senate Commerce Committee Chair Maria Cantwell, D-Wash., abruptly called off a scheduled vote last Wednesday — a sign that she lacked enough votes to move the nomination out of committee. She said some senators wanted more information about Washington.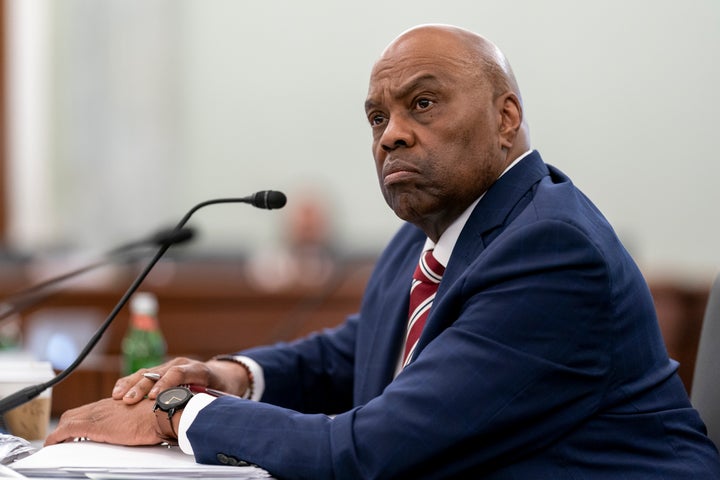 Sen. Kyrsten Sinema of Arizona, who was a Democrat until switching to independent in December, and moderate Democrat Jon Tester of Montana declined to say how they would have voted. Before the White House announces a new nominee, it likely will want assurances of support from Sinema, Tester and other moderates.
The FAA has lacked a Senate-confirmed administrator since March 2022. The agency is trying to reassure Americans that air travel is safe despite a surge in close calls between planes this year. It is also struggling with aging technology that failed in January, briefly canceling all takeoffs around the country. And it is still trying to repair its reputation after approving Boeing planes that crashed in 2018 and 2019.
Washington ran transit agencies in Denver and Los Angeles, but his only aviation-related experience is serving as CEO of the Denver airport for less than two years. He has strong ties to the administration, however — he led Biden's 2020 transition team for the Transportation Department, which includes the FAA.
Biden nominated Washington last July, but he didn't get a committee hearing for eight months. Republicans attacked his resume and seized on disclosures that his name appeared in search warrants related to a corruption investigation in Los Angeles.
Washington said he did nothing wrong and had not been contacted by law enforcement. The agency is being led by an acting administrator, Billy Nolen, a pilot who has held safety jobs at three airlines and the FAA. Sen. Ted Cruz, R-Texas, who led opposition to Washington, said Nolen could win bipartisan support.
Koenig reported from Dallas.