NEW YORK (AP) — Porn actor Stormy Daniels met Wednesday with prosecutors who are investigating hush money paid to her on former President Donald Trump's behalf, her lawyer said Wednesday.
The news emerged as Michael Cohen, a former Trump attorney who orchestrated the payment, was giving a second day of testimony before a New York grand jury looking into the matter.
The $130,000 payment was made in 2016, as Trump's first presidential campaign was in its final weeks and Daniels was negotiating to go on television to air her claims of a sexual encounter with him a decade earlier. Cohen made the payment and arranged another payout — at Trump's direction, he says.
Daniels met with and answered questions from Manhattan prosecutors and is willing to be a witness, her attorney, Clark Brewster, tweeted. The adult film actor tweeted her thanks to her attorney for "helping me in our continuing fight for truth and justice."
A message seeking comment was sent to the Manhattan district attorney's office.
Earlier Wednesday, Cohen said he felt "great" as he headed into what he expected to be his final day of grand jury testimony.
Federal prosecutors in 2018 charged Cohen with campaign finance crimes related to payments to Daniels and Playboy model Karen McDougal, arguing that the payouts amounted to impermissible gifts to Trump's election effort.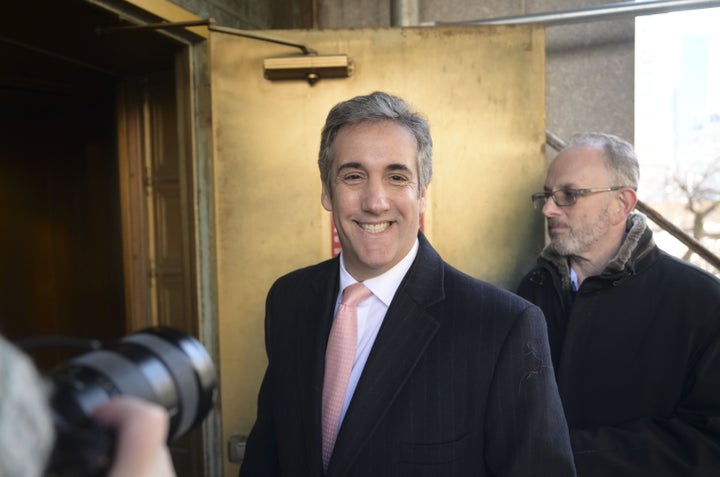 McDougal, who was paid $150,000, alleged she had an affair with the married Trump in 2006-07. He denied it.
Manhattan prosecutors have been examining whether any state laws were broken in connection with the payments or the way Trump's company compensated Cohen for his work to keep the women's allegations quiet.
Cohen and federal prosecutors said the company paid him $420,000 to reimburse him for the payment to Daniels and to cover bonuses and other supposed expenses. The company classified those payments internally as legal expenses.
Falsifying business records can be a misdemeanor under state law, or a felony if the fudging of paperwork is done in connection with a more serious crime.
Trump and his lawyers have said he was extorted into paying the money to Daniels and should be considered the victim in the investigation. Daniels and the lawyers who helped arrange the payment have denied extorting anyone.