CNN
 — 

Baby, let the games begin.
Taylor Swift's "Eras Tour" kicked off on Friday night in Glendale, Arizona during a three-hour show that ran through hits from every era of the Grammy-winner's 17-year career.
"Swifties," as her fans are known, descended upon the city in full Swift-inspired costumes and the location itself changed its name to "Swift City," according to the Glendale, Arizona website. Ticket sales for the tour even broke Ticketmaster, something the singer called attention to on Friday when she told her audience she felt it was safe to assume that it had taken "a considerable amount of effort" for them to be there.
Full disclosure: This CNN writer is a Swiftie. I managed to secure tickets to Swift's penultimate show in Los Angeles this August, but here are some of the highlights of her performance on Friday, based on social media posts from people in attendance.
Donning a crystalized corset and matching boots, Swift started her concert with her "Lover" era by opening with "Miss Americana & the Heartbreak Prince," a track off the 2019 album, and then performed "Cruel Summer" for the very first time in concert.
While performing "Willow" and "Champagne Problems" from her pandemic-era album "Evermore," Swift asked her audience, "Is it just me or do we have a lot to catch up on?" It's a fair question, given this tour is the first for Swift since her "Reputation" shows in 2018.
Audiences were brought back to that era, when Swift performed popular hits such as "Delicate" and "Don't Blame Me" on a set where the "Reputation" snake slithered around.
The "Red" era brought even more throwbacks with some of Swift's more catchy tunes like "We Are Never Ever Getting Back Together" and "I Knew You Were Trouble." Swift also performed the ten-minute version of "All Too Well."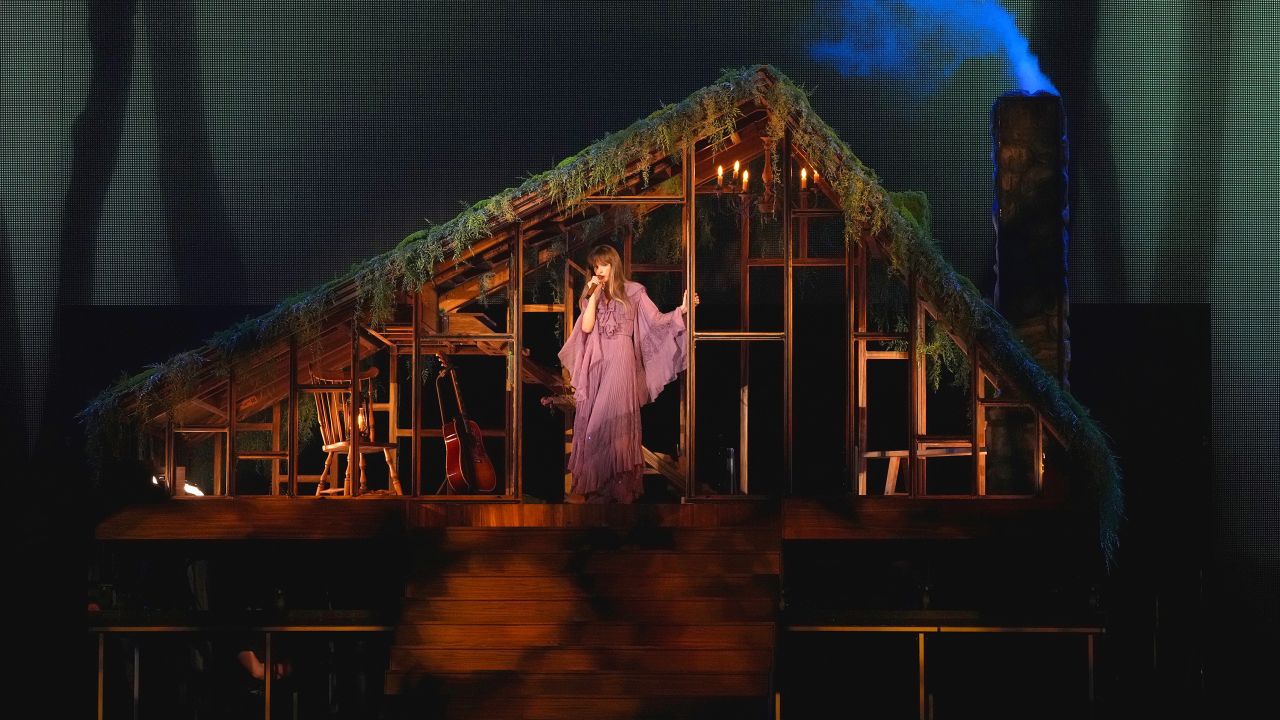 She next performed songs from her 2020 album "Folklore" for the first time in a live concert. Swift stood on a set decorated like the moss covered "Folklore" cabin seen in several of her music videos. The moody and imaginative album was brought to life when she sang "Invisible String," "Cardigan" and "Betty," among others. She later played an acoustic rendition of "Mirrorball" after informing her audience she'll play a different acoustic song at every show throughout the tour.
In true "1989" fashion, this portion of the show appeared to be one big dance party, as it included some of Swift's most popular hits like "Blank Space," "Shake it Off" and "Wildest Dreams."
There were other nostalgic moments throughout the show, Swift sang through her "Fearless" era with "You Belong with Me" and "Love Story." She also sang "Tim McGraw" at the piano, a song from her earliest era in 2006.
As the concert came to its final and current era, Swift played various songs from her record-breaking 2022 album "Midnights," including "Anti-Hero," "Lavender Haze," "Mastermind" and "Bejeweled," and closed out the show with the high energy hit "Karma."
Swift's set list covered more than 40 songs, likely proving to her fans that an exhausting wait for their anti-hero Taylor Swift to return to the stage was well worth it.