KANSAS CITY, Mo. (AP) — Texas Tech coach Mark Adams, who had been suspended recently for racially insensitive comments made toward one of his players, resigned shortly after the Red Raiders were eliminated from the Big 12 Tournament on Wednesday night.
The incident involving Adams occurred in a meeting with a player, who wasn't identified, Texas Tech said Sunday in announcing his suspension.
The school said Adams "was encouraging the student-athlete to be more receptive to coaching and referenced Bible verses about workers, teachers, parents, and slaves serving their masters."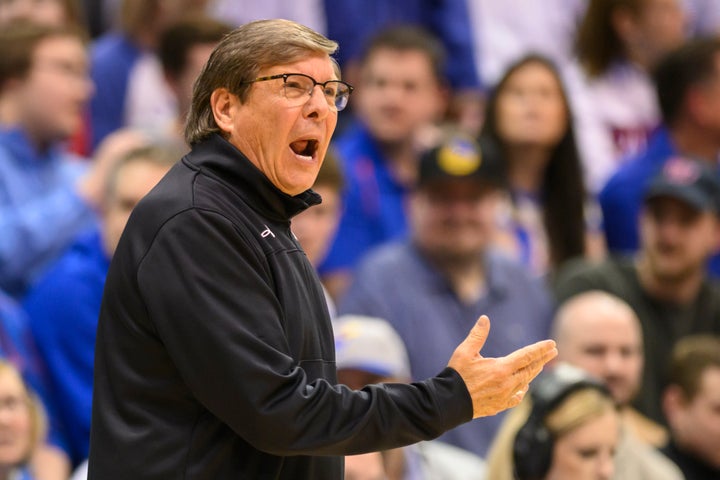 Red Raiders athletic director Kirby Hocutt learned of the incident last Friday and issued a written reprimand, and Adams coached them in a regular season-ending loss to Oklahoma State the next day. But after Hocutt investigated the situation further, he decided to suspend Adams just three days before the start of the Big 12 Tournament.
In its release Wednesday about Adams stepping down, the school said Hocutt determined after the inquiry that the racially insensitive comment was unintentional and an isolated incident.
Adams waited until his team was eliminated before announcing that he was stepping down.
"My lifelong goal was to help and be a positive influence on my players, and to be a part of the Texas Tech men's basketball team," Adams said in a statement. "However, both the university and I believe this incident has become a distraction for the Texas Tech men's basketball team and the university, which I care about so deeply."
This isn't the first time that high-profile coaches have been in trouble for insensitive comments.
Three years ago, Pat Chambers resigned at Penn State after one of his former players revealed the coach said he wanted to "loosen the noose that's around your neck" when talking to the player about helping him reduce stress; he wsa hired at Florida Gulf Coast this season. And during the 2020-21 season, Creighton coach Greg McDermott apologized for telling his team after a loss to "stay on the plantation" as a way to reminding them to stick together; he was suspended for one game.
The 66-year-old Adams graduated from Texas Tech in 1979 and had been on the staff there since 2016, beginning as director of basketball operations under Tubby Smith and then spending time on Chris Beard's staff. He was elevated to head coach when Beard departed for Texas, and signed a $15.5 million, five-year contract extension last spring.
The extension came after Adams led the Red Raiders to the finals of the Big 12 Tournament, where they lost to eventual national champion Kansas. They went to the Sweet 16 of the NCAA Tournament in his first season in charge.
Things soured quickly this season, though. Texas Tech lost its first eight conference games, and any hope of making a run to the Big 12 Tournament title and a return to the NCAA tourney ended with a dismal effort against the Mountaineers.
"If I'm being honest, it's a lot of weight on these kids right now. They've been through a lot in the last week or so," Williams said afterward. "And in some ways, I just feel like it caught up with them, and they wanted to win.
"They gave their best. And once the ball stopped falling in a little bit, it got a little bit more tougher," he added. "The hill became a lot steeper, and unfortunate we weren't able to make up the difference."