Sure, your smartphone technically has a flashlight, but its low power and limited functionality are no match for the real thing. Modern flashlights use powerful LED bulbs that allow even compact versions to generate enough light and have enough beam settings to guide you through almost any poorly illuminated situation, from camping to minor emergencies like lost keys or jewelry on up to extended power outages.
We scoured the internet and assembled a pool of 18 popular flashlights for hands-on testing. After a month evaluating them on their ease of use, beam strength, battery life, and durability, we've found the best flashlights to light your way.
Best flashlight overall
This affordable ThruNite flashlight features plenty of power, straightforward controls, durable construction, and a compact design that's convenient to carry. 
Best rechargeable flashlight
With a long battery life, dual-button controls and a bright, powerfull beam, this rechargeable light packs a ton of functionality into a small package.
Best compact flashlight
This tiny light is bright enough for everyday tasks, portable enough to keep on your keychain, and the twist-on activation makes it convenient for one-handed use.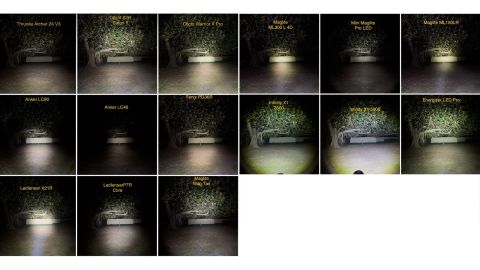 If you're looking for a reliable flashlight that's easy to use, provides a range of beam settings, and won't break the bank, the ThruNite Archer 2A V3 is a great all-around option.
Right out of the box, you'll notice that the ThruNite Archer 2A V3 has a sturdy, high-quality feel and the knurled body makes it easy to maintain a solid grip. The light weight — less than an ounce — and narrow diameter make it convenient to carry without weighing you down too much, and the 6-inch length is long enough to hold in a variety of ways, unlike shorter, compact lights that can be a challenge to adjust your grip, but short enough that it's not hard to fit into a bag.
The real highlight of the ThruNite Archer 2A V3 is its dual-button interface: a recessed tail switch powers it on and off, and a low-profile side button cycles through the 4 brightness settings. I found this setup to be the most convenient to use, and really nails the ideal balance between ease of use and maximum functionality. While single button flashlights provide the same number of settings, I found myself struggling to remember the specific button sequence to find the setting I wanted, something that never happened with this model.
The ThruNite Archer 2A V3 throws a broad, flood-style beam; the shape spreads the light nice and wide, and a textured "orange peel" reflector gives you smooth and even illumination, with no spots or rings. I found this beam to be really useful for both indoor and shorter-distance illumination tasks, where a more focused center spotlight would blow out whatever I was looking at.
It's worth noting that the Archer's 500 lumen output is lower than most of the models I tested, and combined with the flood-style beam, ranked fairly low on my 50 yard distance test. This could be a drawback for some users who want something a bit more powerful (and some of the flashlights we tested put out truly ridiculous power), but this lower maximum output does allow the Thrunite to provide an extremely low "firefly" setting, at just .2 lumens. This is really convenient for close-up illumination tasks like map reading where a stronger beam would blow out your vision
I also found the ThruNite Archer 2A V3 to be exceptionally durable. I tested its 1 meter drop claim by tossing onto a concrete sidewalk every couple of days, and while the case did pick up a few knicks and scratches, its performance was unnaffected. It also boasts an IPX8 waterproof rating, allowing it to be totally submerged in up to 2 meters of water. Although I didn't fully test it at that depth, I did power it on and toss it into my bathtub for 30 minutes, and used it on several long dog walks in heavy downpours.
The ThruNite Archer 2A V3 runs on two AA batteries, which lasted for nearly two hours on high before stepping down to the medium setting, which lines up with its advertised runtime. The Archer automatically shuts itself off when it gets too hot, so it was difficult to test the total runtime from 100% down to 0%, but I think it's safe to say the rest of its advertised runtimes are fairly accurate.
A rechargeable flashlight typically gives you longer runtimes per charge than you'd get from a set of disposable batteries, though you lose the flexibility of being able to run into a store on your way to the campsite if you find yourself without a charge. If you'd prefer a rechargeable model that has a user-friendly interface much like that used on the ThruNite Archer 2A V3, as well as a significantly brighter beam, we'd recommend the Fenix PD36R.
Capable of producing up to 1600 lumen on high and as low as 30 on eco mode, the Fenix PD36R is versatile enough to handle a wide range of jobs. Its focused, throw-style beam is great for long distance illumination, and this low output option still makes it useful for close-range tasks.
The Fenix PD36R performed well in all my tests, and I was particularly impressed with its overall runtime. It lasted over 4 hours on high, and another 9 hours before shutting off completely. It also ranked high in my 50-yard distance test, using its high lumen capability and focused beam to beat out all the other similarly-sized lights. Durability won't be an issue with the Fenix either. Its waterproof design held up after being submerged underwater for 30 minutes, and the heavy-duty aluminum body showed almost zero damage after several 1 meter drops onto the sidewalk.
The Fenix PD36R's wider diameter — it's a little more than the size of a quarter around — and heavier weight give the Fenix PD36R a tactical, heavy-duty feel. While this beefy design makes it a little less convenient to carry in your pocket, the included belt holster and two-way pocket clip help with portability. I was impressed with the strength of this pocket clip, which was secure enough to let me attach it to the brim of my hat for hands-free use, and also prevents the light from rolling around on a flat surface.
The Fenix PD36R's dual-switch control features a big tail switch to turn it on and off, with a convenient "soft press" function for momentary ignition (handy if you want to use it for signaling) and a metal side button for beam selection. This side button also features a small LED battery level indicator in the center — my favorite user-interface feature on this light. This LED briefly illuminates when you turn on the light, and uses different colors and patterns to indicate the battery level status, and turns green to let you know it's finished charging.
The Fenix PD36R charges its internal battery via a USB-C port located on the side of the light–which allows it to have that dual-button interface–and fully recharges in just 4 hours. Also, unlike some rechargeable models with permanent batteries, the Fenix uses a battery that you can actually remove and replace. Although replacement rechargeable batteries are much more expensive than regular batteries, you could conceivably purchase one or two to keep on hand or carry with you, making the Fenix much less of a liability in scenarios that don't have an external power source for charging.
The downside — which holds true for any rechargeable device — is that their batteries aren't typically available in the field. So you'll have to plan ahead, and for good measure bring a charging brick, car charger or USB battery pack along with you.
What compact flashlights lack in power, they make up for in portability and convenience. The Maglite Solitaire may not give you enough power to illuminate your campsite, but it's got plenty of output for everyday tasks, and it is small and light enough to keep on your keychain, ensuring that you'll always have it close by when you need it.
With no buttons to worry about, the Solitaire is very easy to use. You simply twist the head clockwise to turn it on. That's it. If you want to adjust the beam from a spotlight to a flood-style beam, you just continue twisting until you reach your desired shape. Textured grips on both the head and the body make it easy to perform this operation one-handed too, which came in especially handy when using it in a late-night rainstorm. I hang my keychain on my belt loop with a carabiner, and loved being able to simply reach down and twist the light on whenever I wanted. This no-frills operation does limit its functionality a bit, so keep in mind that you won't be able to adjust the actual beam strength or utilize a strobe mode.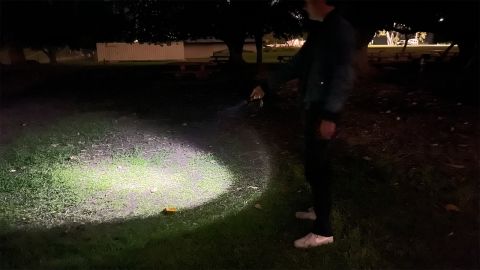 At a little more than 3 inches long, the compact size of the Maglite Solitaire isn't just convenient for carrying around, it's also perfect for accessing cramped or awkward areas, like under a car seat or behind a washing machine. Weighing less than an ounce, the Solitaire also allows for a lot of options when it comes to keeping it conveniently accessible. You can hang it from your keychain, slide it into your pocket, hold it in your mouth, clip it to your belt loop with a carabiner, or, what I did during my time as a commercial carpenter, simply hang it from a string around your neck during a project. While crawling underneath conference tables and desks, I could access the light in seconds, and didn't need to worry about it getting lost or misplaced on the job.
Powered by a single AAA battery (one is included), the Maglite Solitaire lasted 1 hour and 45 minutes in my battery duration test, and although its 47 max lumen output is significantly lower than most of the models I tested, is perfectly fine for short-distance illumination. Despite its compact size, or perhaps because of it, the Maglite Solitaire performed really well in my durability tests. It survived several 2 meter drops onto concrete, and 30 minutes submerged in a bathtub with no ill effect. I did notice that the finish gets scuffed up pretty easily, though this was likely caused by rubbing against my house keys.
It won't be a practical choice for long-distance use, but the low price, easy operation, and durable construction make the Maglite Solitaire a great option for those who want a compact light.
Since flashlights are — obviously — going to be used in low-light conditions, and infrequently, it's really important that they're easy to use. No one wants to find a tiny switch in the dark or figure out how to turn off a flashing strobe setting during a power outage, or try and remember the required sequence of button presses needed to switch from low to high beam when trying to fix a flat tire.
If you're purchasing a light to be used occasionally, and don't want to worry about remembering how to operate it, go with a model that has simple, straightforward controls. A complicated control interface isn't an automatic dealbreaker by the way. Rather, we would just recommend it for someone who knows that they'll be using the flashlight frequently — making it less likely that they'll have to re-learn the controls every time the use it.
While all flashlights clearly advertise their maximum output in lumens (and this can give you a ballpark figure for comparisons), knowing the measurement in candelas (if you can find it) will paint a clearer picture of the beam as a whole. Lumens tell you how much light is coming out of the flashlight overall, in all directions, while a candela measurement tells you how much light is projected in a specific direction (a higher candela number translates, practically, to a more intense beam).
This is important to understand since two 500-lumen flashlights can have very different beam shapes and can differ considerably in their measurement in candelas. While lumens are useful in comparing ambient light sources (like light bulbs), it's more useful to know a flashlight's output in the direction of the beam, thus you'll want to get an idea of the output in candelas if you can't try them in person.
It's also important to consider whether or not you want a rechargeable flashlight or one that uses replaceable batteries. Rechargeable flashlights tend to offer more power and longer running times, and as long as you have a USB port handy, are convenient to charge. The drawback to most rechargeable lights is that they rely on an external power source to recharge them. So, in a power outage or long hiking trip, once they run out, there's not really an easy way to charge them back up. And you can always put standard rechargeable batteries into a flashlight that takes AA or AAA batteries, giving you the best of both worlds (though runtimes may not be as long, it is far easier to find backups)
You could get around this problem by purchasing a rechargeable flashlight that has a removable battery, like the Fenix PD36R, and purchasing extras as backup, but they're much more expensive than regular AA batteries. Flashlights that run on regular replaceable batteries have the advantage of being cheaper, smaller, lighter, and as long as you have a supply of extra batteries on hand or have access to a place to pick up more, can last pretty much as long as you need.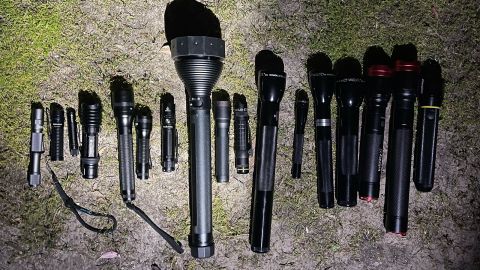 Considering their relative affordability and the fact that they're useful for pretty much anyone, yeah, you probably need a flashlight. Even though the "flashlight" on your smartphone might technically qualify, a dedicated flashlight is better in practically every way.
In the event of a power outage, a flashlight will provide immediate and effective illumination, allowing you to navigate your home safely. More importantly, if that outage lasts a long time, like after a hurricane or flood, you'll be able to preserve your phone battery for communicating with authorities or monitoring weather updates.
Flashlights are also an essential piece of any DIY'ers toolkit. Whether you're crawling under the sink to inspect a leaky pipe, exploring basements and crawl spaces, or just peeking behind the washing machine, nothing beats the convenience of a flashlight. Not to mention, they're much more durable than your fragile and extremely expensive cell phone.
Both a good headlamp and a good flashlight are key elements of your outdoor gear or emergency kit. Headlamps are great for illuminating wide areas — like a difficult-to-follow trail — in your line of sight and they leave your hands free for balance or for manual tasks. They're also less fatiguing and more practical to use for extended periods of time.
Related: The best emergency radios
In many situations a headlamp can be overkill (you need to turn it off if you run into anyone you need to talk to) or unhelpful (if you need to get behind the fridge or under the stove or otherwise examine something that isn't directly in your line of sight.
Flashlights, on the other hand, shine in these situations. They're available with power outputs and beam shapes that let you illuminate much larger areas than headlamps, or in small sizes perfect for detailed work, so they're great to have on hand in addition to or as an alternative to a headlamp.
Flashlights are really handy for locating dropped items at night, searching through a dark backpack, and navigating a quick late-night bathroom trip. Most also feature a strobe function for signaling for help in an emergency — a real advantage over headlamps in emergency situations.
Daily, I personally use my flashlight most frequently for late-night dog walks. It's great for locating pet waste to pick up, shining into bushes or dark areas that dogs are barking at, and is much easier to quickly activate one-handed than fumbling to take my phone out of my pocket.
Flashlights come in a range of sizes, strengths, and control methods, and our comprehensive testing process allowed us to accurately compare one model versus another. It's important to keep in mind that the "best" flashlight will vary from person to person, and the best option for you will ultimately come down to the task you'll be using it for.
To properly compare the flashlights' ease-of-use,  I walked through each model's control interface and reviewed their manuals to ensure that they clearly explained how to adjust and control their settings. I carried each flashlight with me for days, taking any opportunity to use and explore their capabilities, and noting any specific control issues. I also evaluated how comfortable it was to actually use the flashlight, and used a pair of bulky work gloves to see how difficult they'd be for gloved hands.
To compare beam strength and size, I brought all the flashlights to a local park at night, and shined each one at a shipping container 50 yards away. By taking notes and comparing photos of each beam, I was able to effectively compare not only each beam's overall brightness, but also their intensity and shape: some had a wide "flood" beam, others a more focused "throw" beam, and a few could be adjusted to both.
I also tested each flashlight's battery lifespan by timing how long it took the battery to drain from full power (for non-rechargeable lights, I used the same EBL brand rechargeable batteries to aid in continuity). During this test, I also noted any differences in how each light handled battery drainage, whether they slowly faded down to nothing, automatically stepped down to the next brightness level, or if they shut themselves off automatically when they got too hot. I also noted which flashlights had any helpful battery level LEDs or indicators that let you know the current battery level.
Once the batteries were fully drained, I timed how long it took for any rechargeable models to fully recharge. During this test I took each light's charging method into account, noting how easy or challenging the charger was to use, and if it used a charging cradle that would take up space on your desk or workbench.
Finally, I tested each flashlight's resistance to the elements and impact as a proxy for their overall durability. Using their advertised waterproofness and drop ratings, I submerged them in my bathtub, took them in the shower, used them on rainy-day dog walks, and dropped them on concrete. In addition to noting any physical and cosmetic damage, I made sure to test their beam settings as well as charging capabilities to make sure nothing mechanical or electrical was affected.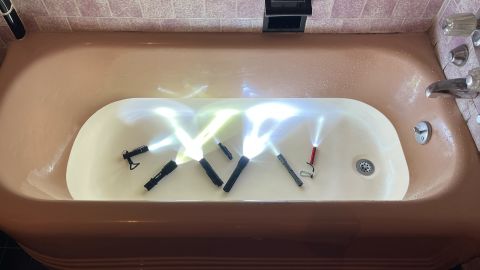 If you're looking for a compact, well-made flashlight that won't break the bank, this rechargeable Anker light could be a great choice. It's wide head and scalloped bezel allows you to easily store it upright, and the sturdy pocket keeps it from rolling around on its own. Powerwise, its maximum output of 400 lumens is on the lower end, but the focused beam gave us plenty of illumination. Although the single-button control is simple to use, with one click for each beam setting and a long press to turn it off, its small size and tail position isn't very convenient to use, and was the most difficult to use while wearing work gloves of any of the flashlights we tested.
The beefed-up sibling of the compact LC40, this Anker model has the same high-quality feel plus its head design allows you to adjust the beam size. Its 8-inch length makes it really comfortable to hold, unlike compact lights that don't really let you get a good solid grip. The high output — 900 lumens at maximum — and tight beam made the LC90 powerful enough to rank in the top 5 on my 50-yard distance test, and it held that maximum setting for 4.5 hrs before it automatically reduced power to the 300-lumen medium beam mode. Unfortunately the LC90 has the same small, difficult to access tail switch button of the LC40 though, making it less convenient to adjust the settings than it is on other lights with beefier tail switches, but the LC90 does provide a lot of light for money if you don't mind.
Although this Energizer model was the cheapest flashlight I tested, it still provided an impressive amount of illumination. Powered by six AA batteries (included) it can produce up to 1000 lumen, and lasted an impressive 18 hours before fading out. These batteries help to provide a nice heavy weight and solid feel, and its sturdy metal construction had no trouble handling my 1 meter drops on concrete. Considering the durability and low price, this flashlight would be a great choice for anyone who wants to purchase a few low-cost lights to store in their glove box, kitchen drawer, or RV.
This light features an extremely bright 2500 lumen output, flood-style beam and a multifunctional design that makes it especially suitable for emergency situations. It can be powered by a rechargeable internal battery, or by 6 AA batteries, whichever you prefer. An integrated USB cable even allows you to use either battery pack as a power bank to charge your mobile devices. The 5.5-hour battery life is relatively short, but four convenient LEDs in the handle let you keep an eye on the current battery level.
If you're looking for a high-end rechargeable flashlight and don't mind paying for it, the Ledlenser P7R Core has an extremely high-quality build, a colored LED display that lets you know the current battery level, and 1400-lumen output with a beam that can be adjusted to create a wide flood or focused throw beam in a relatively compact package a bit over 6 inches long. It features eight settings, three of which are specifically for signaling use, and one blinding strobe that's described as being well-suited for self-defense. The single-button control does require a bit of a learning curve, but if this is meant to be your everyday tool, that shouldn't be an issue.
It's a serious outlier in pricing, but with seven LEDs combining for a 5000 lumen output, the Ledlenser X21R had the highest output light in our tests. The Ledlenser X21R is strictly for those who value an extremely bright, adjustable beam, though the low setting (300 lumen) also makes it relatively functional for lighter-duty illumination. That said, the X21R is clearly meant for professional use. The 16 inch length and heavy weight make this the bulkiest light I tested, though the wall-mounted cradle allows you to store it without taking up any surface space. It also includes a solid plastic storage case, which is really convenient for safe transport along with other tools in a truck. I also appreciated the ring of blue LEDs around the base, which lets you know precisely how much battery charge is left. This light would probably be overkill for the casual user, but it could be worth the investment for the right person or search-and-rescue team.
This compact light has a nice balance to it, and a really durable, sturdy feel in your hand. Its tail switch is wide enough to press easily, and I loved the momentary setting for toggling the beam on and off quickly. I found the vertical charging base really convenient to drop the light into when I was finished using it. With no cables to connect or even magnetic attachments, this design makes it much more likely that you'll return it to the charging base when you're finished, that it will get charged once you do — and that it'll be easy to grab quickly in an emergency. This would be the perfect choice to mount onto your workbench or a basement shelf, or, thanks to the included 12V adaptor, the cupholder of your car.
Powered by four D batteries, the classic Maglite ML300 4D has a nice heft to it, and the straightforward single-button control allows for instant adjustments no matter how you're holding it. I love how Maglite allows you to choose between different "function sets", so you can configure the control for easy access to the most helpful beam settings for you (I prefer to have a momentary press for example, while others may not). Even though this flashlight is relatively long at 14.5 inches, it has a nice balanced feel, and a twist of the head easily adjusts the beam focus. I did experience some slight rattling of the batteries inside the body, which made me somewhat concerned with its overall durability and build quality.
A perfectly capable mid-sized light at an affordable price, the Mini Maglite Pro is a great all-around choice. Its 332 max lumen output is suitable for the average user, and the simple operation — just twist the head to power on the light and adjust the beam — is about as simple as you can get. It's also durable; even after a couple of 1 meter drops on concrete it suffered no more than a couple of cosmetic scratches. It includes 2 AA batteries, and even came in a convenient, hard-sided storage case. I think that it's worth noting that this flashlight also comes in a wide range of color options, and the digital camo pattern could be perfect for hunters.
This rechargeable Maglite was extremely comfortable to hold in my hand, and has a really well-balanced design. It's light enough to handle and point around comfortably, but still large enough to be considered a step above the "compact" category. Its 1082 lumen output is higher than most, and the charging cradle brought the battery level from 0 to 100% in just 2.5 hours.
The wall-mounted charging cradle was probably my favorite feature of this light, which, thanks to a well-designed release mechanism, allows you to detach and grab one-handed. If the 4D maglite is too bulky for you, and the mini maglite too compact, this light could be a perfect choice. Its expensive, but the high-quality feel of the light itself as well as the charging cradle still makes it a good value in my opinion.
This legacy-tech, incandescent-bulb version of the Maglite is the only non-LED model I tested, and its relatively poor performance underscores why manufacturers have mostly moved on from old-school bulbs to LEDs. Despite the fact that it's powered by a pair of D batteries, this light only produces 27 lumens, is by far the lowest output in my testing pool. By comparison, the tiny Olight 13T EOS 180 produces 180 lumens, and costs much less. This isn't a knock on Maglite as a brand by any means — their LED lights are fantastic — but simply an observation of the limitations of incandescent models.
Despite its compact size, this rechargeable light packs a ton of power. Its 1150 lumen output and balanced beam make it useful for a good range of jobs, and although the single-button control requires a bit of a learning curve, it's certainly not a dealbreaker. A colored LED in the center of the button also lets you know when the battery is running low, which is always a plus. I found the magnetic charging system to be easy to use too, and more convenient than having to navigate tiny charging ports. Combined with the double-sided pocket clip, this magnetic base gives the Olight Baton more storage and mounting options than any other.
Powered by a single AAA battery (included) this 3.5-inch light provides a 180 lumen output. The tail switch has a textured rubber cover which gives your thumb a nice and sturdy grip, and a soft press provides momentary illumination. One of my favorite features of this light is the double-sided clip, which allows you to clip it to your pocket or belt, as well as to a hat brim to use as a headlamp. It's also rated IPX8 to withstand full immersion in water, and I noticed no ill effects after tossing it in my bathtub — turned on — for 30 minutes. I did experience some mysterious flickering after about 20 minutes on high mode (likely a thermal management issue), so it may not be ideal for those who want extended operation without a break.
I loved the raw power and hefty weight of this Olight model, but at over $100, it's on the expensive side. The 2100 max lumen output makes it one of the most powerful flashlights I tested, especially impressive considering that it's relatively small, measuring less than 6 inches long, although the 300 lumen lower setting is still too bright for close-range use. The wide, scalloped bezel makes it easy to stand up on its top, and combined with the heavy weight and sturdy construction, give it a very heavy-duty, tactical look and feel. The included belt holster allows for easy access, and the magnetic charger easily pops on and off. I especially appreciated that this light comes with two grip rings to choose from: a squared-off ring that will prevent rolling, and a rubber "tactical" ring that provides a better grip for operating one-handed.