This article is a part of CNN Underscored's Guide to Sleep, a week-long focus on everything you need to sleep better. We'll be featuring new products and exclusive deals all week, so check in every morning to see what's new.
Waking up is a drag, which is why the Hatch Restore 2 made such an impression on me. A unique and attractive bedside assistant, Hatch's new multitasking device is the perfect aid for anyone looking for a kinder, gentler alarm clock — as well as a meditative guide to help you fall asleep.
I won't lie, I don't usually go in for pre-sleep mantras or encouragements. I'm the one at the back of the yoga studio with one eye open when we're supposed to be chanting. But, as my husband likes to remind me when I'm dashing around dealing with dinner, kid's homework and other familial generalities, I could use some relaxing downtime before bed. And, in addition to offering a more humane way to greet my mornings, the Restore 2 also gave me a reason to sit back and relax at the end of the night.
Hatch's newest device is now even sleeker and smarter than the original Restore sleep solution, which came out just two years ago. Its main cycles are Rest and Sleep, but there is an array of individual colored lights and white noise sounds to play with. To see if it was able to help me better fall asleep and wake up without feeling like someone jumped out of the closet and clobbered me on the head, I kept the Restore 2 on my nightstand for 10 days. Here's what you need to know.
The Hatch Restore 2 is an all-encompassing sleep machine which uses light and sound to help you fall asleep faster and stay asleep longer. The accompanying app gives you access to a library full of colored lights, white noise, sleep stories and guided meditation, though you'll need a paid subscription to the Hatch Sleep Membership to unlock its full potential. But where the Restore 2 really shines is its amazingly pleasant Sunrise Alarm, which wakes you gently and more humanely than the average alarm clock.
Instead of a loud noise to get you up, the Restore 2's main attraction is its Sunrise Alarm, which uses light to gradually wake you. In place of a wham-bam-thank-you-ma'am event, this triggers a subtle awakening, preset to last 30 minutes (though you can change that in the settings to up to an hour or as short as 5 minutes). Add a sound to accompany the light and you'll have a personalized routine that's meant to start your day with a little more peace and a little less anxiety.
My first action after I unpacked the device was to set an alarm for 6:45 A.M. with Malibu Sunrise and Ocean Shore, using the 30 minute preset. And just in case, I also set my iPhone alarm. The next morning I was roused at 6:40 to a glowing orange light on my face, with the sounds of waves crashing and birds singing. And it was fabulous. When that iPhone alarm went off 5 minutes later, I couldn't wait to turn it off before it harshed my mellow.
The rest of the week I played with different combinations: Hiking in the Dawn with Meditative Flute? Yes, please. Nordic Sunrise and Cityscape? Not so much. Other lightscapes include Portland Lighthouse, Morning in Prague and Flower Orchard, while sounds are as varied as Retro Beep, Windchimes and Morning Singing Bowl (kudos to whoever came up with that one). This means you can find the perfect mix to get you moving and change it up as much as you'd like. All of this is controlled with the corresponding app.
Because I'm not the soundest sleeper, I would occasionally wake up way before my alarm even started, which gave me a chance to see the Restore 2 make its way through its 30 minute journey. And even then, it felt strangely soothing to have a light that mimicked the sun next to my bed.
The intensity of the light and volume of the sound can also be edited, though I stuck with the 75% light it was preset with and took the volume down to 50%. This seemed like the perfect mixture to reliably wake me without annoyance. And when I was ready to turn it off, it was simple enough to just hit the button on the top left of the device.
TL;DR: The Sunrise Alarm, a gradual light paired with soothing sounds, is a game-changer for anyone who has a hard time waking up in the morning.
The Unwind feature, which you will find in the Rest cycle, is the opposite of your Sunrise Alarm. Call it a sundown, if you will. Since I'm usually the last in my family to fall asleep, I have recently been using the time to catch up on some streaming TV shows nobody will watch with me. But it occurred to me that watching the cartoon violence of The Boys before bedtime may not be great for my psyche, so I tried the Restore 2 instead.
I chose Marine Midnight as my light and Island Getaway as my sound (yes, there's no denying, I am a beach girl) and instead of turning on the TV, I grabbed my book. The preset 15 minutes didn't quite put me to sleep, but it did get me started. The next night I changed the duration to 30 minutes and that did the trick. I also played around with the combinations, like Moonrise Horizon paired with Drowsy Piano and Campfire Haze with Ambient Overlook.
You can also pick from a collection of Sleep Stories as your audio component, which are short, snoozy tales you can rotate nightly. I tried Celestial Lake National Park, and I couldn't help but chuckle as ranger Ashley took me on a personal park tour with her drowsy twang. But, if listening to a soothing voice helps you get your sleep on, you'll appreciate the creative content. On a similar note, you can add one of the Guided Rest Exercises, which are spoken meditation tools, onto your Unwind playlist.
Last but not least, The Restore 2 can be as simple as a common white noise machine. Or you can kick it up a notch and add a colored light. Under the Sleep tab in the app's Library, I found 24 different sounds that are as varied as basic Pink and White Noise to Forest Wind, Evening Crickets, Dishwasher and even Vacuum. My son came in one night complaining that he couldn't sleep, so I put the device in his room and just like that, he was out after 15 minutes of Relaxing River.
TL;DR: A hefty library comprising white noises, sunset lighting and soothing stories can help you set a more relaxing nighttime routine.  
A streamlined design makes it a pleasant nightstand addition

The original Hatch Restore earned rave reviews from CNN Underscored, as well as handily winning as our upgrade pick for best white noise machine. The Restore 2 follows its lead, but with an even more aesthetically pleasing design.
The newer device not only comes in three colors, a khaki Putty, off-white Latte and gray Slate, but also has fabric stretched completely over its face, rather than just on the bottom. It also has two large buttons on its top to control your alarm and nighttime functions, also labeled Rest and Rise. For contrast, the Restore has a tap control and just one speaker in comparison to the Restore 2's three — all the better to better play the remastered sounds.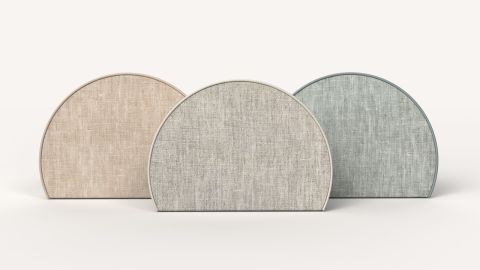 Long press either button to stop or start your routines, and if you feel like a snooze in the morning, you can tap that Rise button to buy yourself an extra nine minutes. There are additional touch sensors on the front of the Restore 2, which let you adjust both volume and brightness of whatever is playing on the device. And, if you want to completely turn off your alarm without dealing with your phone, just use the toggle on the side.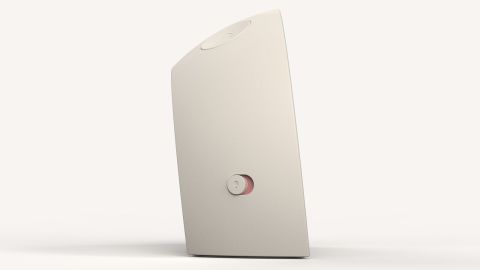 When it comes to the clock, you also have choices. Out of the box, the Restore 2 does not include an always-on clock face, forcing you to tap the face if you want to see the time. I am a fan of having the time close at hand, so I went into the app and turned that feature on. However you can personalize this further, depending on exactly when you want the time displayed.
TL;DR: The Restore 2 has buttons instead of tap controls, a more personalized clock face and comes in three attractive colors.
Pricey hardware and another subscription to consider

I don't know about you, but I'm full up on subscriptions. Everytime a new show gets rave reviews, we seem to be adding another streaming channel to our repertoire. And I'm also paying monthly for my Lululemon Studio exercise app. So, though it's not going to break the bank at $5 per month or $50 per year, it is still annoying to have to pay yet another fee for the Hatch Sleep Membership.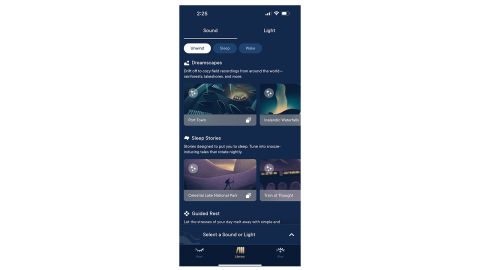 This added subscription gives you access to Channels, an extra cabal of playlists which includes music, meditation, dreamscape sounds and spoken stories. Whether or not you need to invest in the membership depends on what you want to get out of the Restore 2. Considering the extravagant $200 price tag, you may not want to miss out on everything the device has to offer. However, if you're just a fan of the Hatch 2's innovative Sunrise Alarm and basic sounds, you can easily skip the extra charges.
Can't decide? That's OK. You'll get up to a month free with purchase.
TL;DR: $200 is a lot of money for an alarm clock, and the extra software membership fee adds insult to injury.
Sleep is an important aspect of our lives, which is why Hatch's new Restore 2 is worth considering. A simple, attractive device that can help you fall asleep and stay asleep, we especially love its gentle, ground-breaking Sunrise Alarm, which uses both light and sound to nudge you from slumber without jolting you awake.
Yet, as much as we love having the Restore 2 on our nightstand, $200 is a whole lot to pay for a fancy alarm clock. Plus, if you want to use all the features this oversized price tag affords, you'll have to pony up for another $5 per month or $50 per year.
In the end, the Restore 2 is a sound investment in your mental health and sleep patterns, so if that's on your 2023 bucket list, this device is well worth it. And I can promise you one thing, once you go sunrise, you never go back.