The benefits of drinking matcha tea are well documented, but now people are applying the Japanese-style powder of green tea leaves to their skin with masks and cleansers — and more beauty brands are using matcha as a hero ingredient in their products.
The purported results include reducing acne, preventing premature aging, fighting skin cancer and minimizing damage from ultraviolet light. So, is matcha really the miracle skin care ingredient that some claim it to be? HuffPost spoke to three board-certified dermatologists familiar with the subject to get the truth, and the overall feeling is optimism riddled with uncertainty.
What exactly is matcha, and why do people consider it useful in skin care?
"Matcha is a finely ground powder from a uniquely processed green tea, thought to be super high in antioxidants" — specifically epigallocatechin gallate, or EGCG — said Dr. Leah Ansell, a cosmetic, medical and surgical dermatologist and an assistant professor of dermatology at Columbia University.
Though green tea has long been included in skin care products, matcha specifically is a newer ingredient in the market. "Catechins found in green tea and in super high concentrations in matcha-type green tea are thought to be the mechanism for protecting and repairing the skin," Ansell said. The idea that matcha is a powerful skin care ingredient is based on studies of topical formulations of green tea, which "have shown significant reduction in skin cancer when applied in mice," she said.
"We do know that when matcha is in tea form, the concentration of EGCG is 137 times greater than the amount of EGCG in other forms of green tea and at least three times higher than the largest literature value for other green teas," Ansell added. "As a skin care ingredient, [matcha] is thought to have protective effects to fight free-radical damage, have anti-inflammatory powers and potentially … reduce the appearance of sun damage."
How certain is it that matcha offers these benefits?
When compared with general green tea in skin care, dermatologists feel cautiously hopeful about matcha. "Since matcha is finely ground green tea leaves, more antioxidants in the leaves make it into your skin," said Dr. Aanand Geria, a dermatologist in Verona, New Jersey. But, Geria added, "research is still being conducted to determine any risks or benefits that matcha may provide."
"Comparative studies are still needed with matcha specifically, and there is not conclusive proof that matcha is superior. So, the jury is still out," Ansell concluded. "Hopefully studies will be done to confirm these benefits when applied directly to the skin. The potential benefits could be significant."
Does it even make sense at this point to use matcha in skin care?
Despite some uncertainty around effectiveness, the potential advantages could make skin care packed with matcha worth a shot. Dr. Dustin Portela, a dermatologist and skin care educator on TikTok, said that though "matcha can soothe inflammation," evidence of other benefits remains inconclusive. "The reality is that we just don't have enough studies to say that matcha is an effective ingredient to treat acne," he said. "However, it may show some anecdotal evidence because of the anti-inflammatory properties."
As for fighting premature aging, "matcha certainly has the potential to reduce those risk factors," Portela said. "However, we simply don't have enough studies to conclude that applying matcha skin care will reduce the risk of skin cancer in any individual."
If matcha is effective, who is most likely to benefit?
"Matcha can be safe for a wide range of skin types," Portela noted. "The way in which it is formulated, and what other ingredients are delivered, will actually make a bigger difference in what skin type a matcha product is suitable for."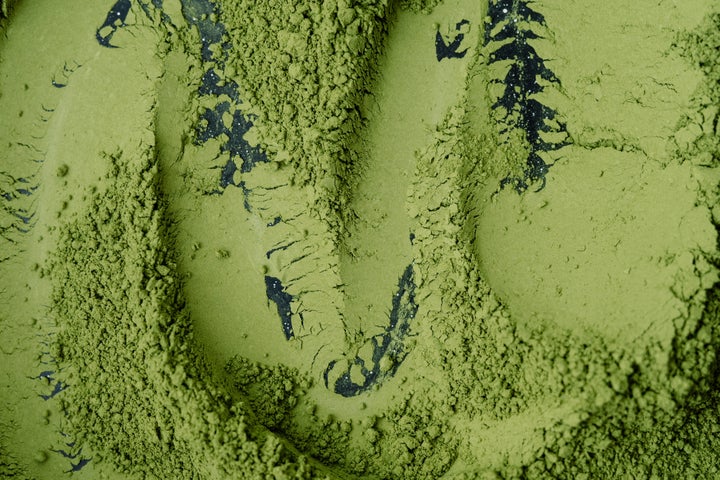 Still, people with certain skin concerns stand to gain more than others. "Researchers concluded matcha might be especially beneficial for people with sensitive skin or those exposed to pollution," thanks to its ability to help stimulate natural collagen production and elasticity, according to Geria.
Furthermore, "anyone with sun damage or looking to protect their skin during the day from free-radical damage could benefit from trying matcha-containing products," Ansell added.
What is the best way to reap the potential rewards of matcha?
Though Geria said that "having matcha in any step of your skin care regimen is beneficial," Portela saw certain products as more advantageous than others.
"When you deliver antioxidants to the skin, you want to make sure they have time to be absorbed into the skin," Portela said. "This is why I don't find matcha cleansers to be particularly beneficial. They are not in contact with the skin for long enough to make a huge difference. Matcha has the most potential when delivered through serums and masks. This longer contact time allows the antioxidants to be delivered to the skin and to do their work."
Still, the best method may just be the old-fashioned way: drinking it. "Numerous studies have shown that consuming matcha delivers potent antioxidants and can lead to better health. Everything in our bodies are connected, so when you consume antioxidants, eat nutritious foods and get plenty of sleep, you are more likely to display healthy skin as well," Portela said.
"Drinking matcha has many benefits for the skin," Geria agreed. "It contains vitamin B2 and E, [which are] essential for maintaining healthy skin. B2 helps balance collagen levels, which improve skin firmness and texture. Vitamin E assists in cell growth and helps skin stay hydrated and nourished. Matcha also contains antioxidants, which boost blood circulation, making the skin glow. In addition to antioxidants, matcha also contains methylxanthines that help to stimulate microcirculation in the skin. This makes the skin healthy and radiant, and gives it an even complexion."
Are there risks to using matcha in skin care?
"As with any skin care ingredient, it will not work for everyone," Portela said. "There is a risk of causing irritation or even allergic reaction with nearly any skin care ingredient."
Ansell recommended watching out for "allergic reactions to the botanical itself or sometimes reactions to preservatives or other ingredients in the product that help stabilize it."
As for the TikTok users who are mixing up their own concoctions, "I would caution consumers against making their own matcha skin care," Portela said. "These are more likely to cause irritation and be less likely to deliver results to the skin."
Looking for some skin care that really does work? Here are some dermatologist favorites, according to senior Shopping writer Lourdes Avila Uribe:
HuffPost may receive a share from purchases made via links on this page. Every item is independently selected by the HuffPost Shopping team. Prices and availability are subject to change.