In the course of my years of writing about smart home products, I've used more smart switches — that is, light switches you can control with your phone, smart speaker, tablet, or computer — than anybody reasonably should. I've been frustrated and my family has been annoyed — a lot — but I've also learned plenty. One of the biggest lessons I've come away with has been that Wi-Fi, for all its strengths, is just not a good communication medium for these devices for many reasons, not the least of which is reliability.
Enter the Wemo smart switch with Thread. This simple, easy-to-install light switch uses the Thread wireless protocol, which means it operates completely independently of the internet, instead forming a mesh network with other Thread-enabled devices. It's a simpler approach, obviating the need for perfect router placement or investing in costly mesh Wi-Fi routers.
If you want an easy solution for controlling your home's lights — and primarily use Apple smart home products — the Wemo Smart Light Swtich is an affordable, reliable choice.
As a smart light switch, is it up to snuff with the best alternatives out there? If you're in the Apple ecosystem, absolutely. Here's why: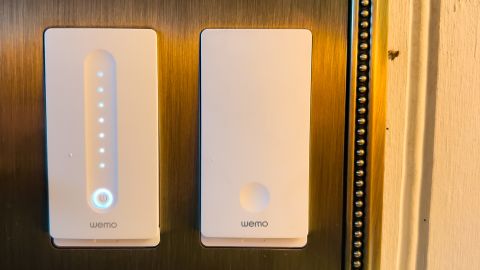 Smart switches tend to take a couple of different approaches to setup. Some have color-coded wires jutting out from the body of the switch, while others simply let you connect existing wiring either to the screws on the side or through ports on the back. The Wemo smart switch with Thread takes the latter approach, which I tend to prefer as it ultimately saves space — you're not jamming four wire nuts into an already-cramped electrical box — and allows for more secure physical connections directly to the body of the switch.
The terminal holes in the back were large enough for me to stick the wire and its housing into the back, leaving no exposed copper. It was a little tough to wiggle the wire beneath the clamping plate inside, but once in, they were snug. And because the switch uses interchangeable line and load wires (the usually-black wires that carry power from your breaker box and to the light, respectively), you don't have to worry if you get the two mixed up, making installation all the easier.
In the box, Wemo includes a white jumper cable for connecting to your neutral wires (which should also be white) and a wire nut for easily connecting it. It also comes with clear, well-illustrated instructions with no gaps that I felt the need to backfill with independent research, which is never a guarantee with these things.
Related: The best smart bulbs you can buy right now
Unfortunately, Wemo makes some of the huskier smart switches on the market, and that's true here. If you have an older, shallow electrical box, its 1.7-inch depth may make it difficult to cram in, particularly if you're dealing with a past homeowner's haphazard DIY approach to wiring. In those situations, I'd recommend hiring an electrician to sort things out.
Finally, Wemo includes a nice-looking, simple faceplate that clips on, leaving no visible screws. I was installing this in a three-switch box, so I didn't use it in my setup, but it's a nice-to-have. Even so, it works with a standard paddle switch faceplate, so if you don't like the included one, you can always use your own.
Note: While installing a smart light switch is one of the easier bits of electrical work, the consequences for doing so poorly can be dire, and even fatal. Turning off the power to the switch is crucial, as is testing the wiring to verify there's no electricity going to it. It's a good idea to buy a multimeter or at least a voltage tester to be certain, but above all else, if you're unsure about this work, hire a professional electrician to do it for you — not only will it save you time, frustration, and potential injury, but the work will be insured should something go wrong down the line. You can find a good write-up for DIY light switch installation at Bob Vila.
Simple setup and responsive control

After installation, setup was a breeze. Because the Wemo smart light switch with Thread supports HomeKit, there's no need to involve the Wemo app — you simply tap the '+' button in the iOS Home app, then 'add accessory,' then scan the HomeKit code printed on the front of the switch or enter the numbers manually (I had to do the latter, as my phone's camera refused to identify the code in my low-light basement). In all, had I not been also installing another light switch in the same box, I would've had the whole thing done in less than 20 minutes.
Being HomeKit-compatible isn't always a win. For contrast, I also installed an older Wemo Wi-Fi smart dimmer on the same day, in the same three-gang box. It took at least five attempts before I was able to set it up, finally working when I tried an old trick that's worked for me with stubborn Wi-Fi smart home products in the past: using my iPad for the setup instead. I'll be replacing that with a Thread smart dimmer switch as soon as I'm able.
Using the new Wemo switch was a breeze. It mostly reliably toggled within about two seconds when using voice control through my 2nd Gen HomePod, and even faster with Siri or the Home app on my iPhone. Longer term testing will reveal how well it does over time — I've never owned a smart device that didn't at least occasionally fall completely flat — but at least in my testing, this switch has been solid, even as other repeat offenders struggled.
Wemo's smart switch is affordable at $50, and it's frequently on sale for even less (as of this writing, it's just $40 at various retailers). You can spend less on a smart switch if you want, though you'll find compromise, there — reliability tends to slip for cheaper smart switches, and it's hard to find anything that's compatible with Apple's smart home ecosystem for less (although as you'll see in the table at the end of this review, there are some compelling older Wi-Fi options available for less).
Exclusivity and limited features

Nothing is perfect in this world, and there are a few things to know if you're considering the Wemo smart switch with Thread. First, it's a HomeKit-exclusive, so if you don't have an iPhone or an iPad, you can't use it at all, and you need a HomeKit home hub — a HomePod or an Apple TV — to control your devices when away from home. Also, you'll need the right HomePod or Apple TV for Thread control, as the original HomePod lacks a Thread radio, and it gets a little more confusing for Apple's TV streaming box — both 2021 models support the protocol, but of the 2022 models, only the 128GB model does.
It's also limited to simple on/off functionality, so if you were looking for a dimmer switch with Thread compatibility, you're unfortunately out of luck for now; there just aren't any on the market right now.
Related: Our picks for the best smart plugs
The biggest potential drawback is Matter support, or the lack thereof. Wemo has said it will release a Matter-compliant smart switch sometime this year, but so far has no plans to update the current Thread switch to the new standard. That's not a big deal if you're already in the HomeKit ecosystem, but if you were hoping for Google Assistant or Alexa control, it may be best to wait for the next iteration of the switch.
At the end of the day, the best smart switch is the one that works the best with your setup. I found the Wemo smart switch with Thread to be reliable, easy to install and set up and the price wasn't especially painful, but there are cheaper options out there. If you don't mind something a little older — and possibly a little more frustrating to get going with — the Wemo Wi-Fi smart dimmer switch is a nice dimming option that connects to your Wi-Fi router, works with all three of the major smart home ecosystems, and has a very nice control interface. It's a three-year-old switch though, so software updates could be a concern (although Wemo tends to be good about supporting its older products, so far).
Meross makes an even cheaper simple on/off switch in its Wi-Fi smart switch for HomeKit. At half the price of the Wemo smart switch with Thread, it has all the same features (that is, it turns your lights on and off) and it's actually smaller, making it an easier fit in traditional electrical boxes. Meross also tends to make reliable Wi-Fi smart home devices, which is great because few things are more frustrating than a smart switch that requires regular factory resets. But it has some drawbacks — installation isn't as flexible as Wemo's new switch, as you'll need to know for sure which of the black wires is line and which is load, and it's again an older product.
Ultimately, Thread is part of the future of smart homes, and for dedicated Apple smart home users, Wemo's switch is a good buy, even if the company plans to release the exact same switch with full Matter support and may not update this one to the same.