Editor's Note: David M. Perry is a journalist, historian and senior academic adviser in the history department of the University of Minnesota. Matthew Gabriele is a professor of medieval studies and chair of the Department of Religion and culture at Virginia Tech. They are the co-authors of "The Bright Ages: A New History of Medieval Europe." The views expressed here are the authors' own. Read more opinion on CNN.


CNN
 — 

NOTE: This commentary contains spoilers for season three of "Ted Lasso."
The much-anticipated return of "Ted Lasso" – in its third and final season – is upon us, and the show has a new villain: the past. In the last season, most of the characters had faced a major choice and come to some kind of revelation and choice. But now the work begins.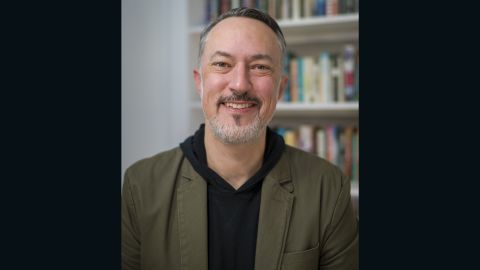 At the end of season two, Ted, the manager of AFC Richmond, has finally told his therapist about his father's suicide, but feels guilty for working in England while his son lives in Kansas, and he still loves his ex-wife. Rebecca, the team's owner, has to attend her father's funeral. There, she talks to her mom about walking in on her father cheating on her and wrestles with those feelings.
Critically, the writers seem to have placed both the suicide and the Rebecca catching her father cheating on the same Friday the 13th in 1991. This day is the origin story for the monsters of their past, and if not literal ghosts, both characters remain haunted by their history nonetheless.
The pasts still plaguing the rest of the main characters aren't all dramatic as these dead fathers. Nate, the football tactics prodigy, is trying to figure out why success isn't making him happy. Alas, he's lured in by Rebecca's ex-husband Rupert, who hires him to coach a rival football team. Keeley, the ex-model turned PR professional, gets to launch her own business. Her boyfriend Roy, retired football star turned coach of AFC Richmond, is trying to be happy for her, but being happy isn't really his strong suit.
And so it goes, on and off the pitch, each character has come close to realizing what challenges they are facing, but resolution remains far away (except for Sam, the Nigerian footballer, who really seems to have figured it all out). Even on the pitch, the football team has climbed back into the elite Premier League, but can they really even compete?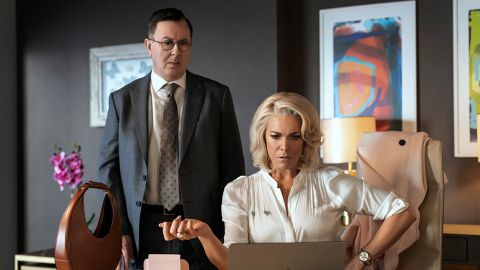 By the end of the new season's first episode, it's not that the plot thickens (the plotlines were pretty clearly telegraphed in the previous finale), but that the complexities finally emerge. Each character has to face their individual histories and the consequences of their choices, but they also have to deal with the repercussions of the choices made by others. Everyone in the orbit of AFC Richmond is entangled and, at least at first, this seems like a problem – people are stuck within the little worlds they've created for their anxieties, making it harder for them all to find their way forward. As Ted explains in a particularly ripe metaphor when he takes the team down into the London sewers early in the first episode of season three, the clogging up can create huge problems (like not playing well on the pitch. Also, cholera).
But that entanglement also creates opportunities. If we connect wisely and intentionally, all of our waste can be allowed to just flow away.
For all the discussion to the contrary, "Ted Lasso" has never been a show about just being a nice guy. Rather, the Apple TV+ series has consistently tried to reveal the challenges and opportunities that come from discovering what we owe each other if we want to belong to a community. What we owe each is care, or love, or what at the close of last season we called caritas.
But as the show enters its final season, it has time to put those lessons into practice. It turns out that having a revelation is relatively easy. Actually using that revelation to effect change, whether in expressing actual caritas (selfless love) for others or in trying to win the Premier League for the first time, is much harder.
Back to that visit to the sewer. The visit is almost a disaster – not because anyone falls in, but because when the team climbs back up into the sunlight they're confronted by a ghost from the past.
While in the sewer, someone had taken a picture of the team and posted it on Twitter. Nate, estranged from Ted and now manager of the rival (and real) London team West Ham United, uses the photo to mock Ted and AFC Richmond at a televised press conference. And it's this, as well as Ted's reaction at his own press conference, that seems to reveal the theme that will usher the show towards its resolution at the end of this season. The past, and more specifically the stories that our characters have told themselves about that past, are lurking – sometimes unseen – behind everyone's actions.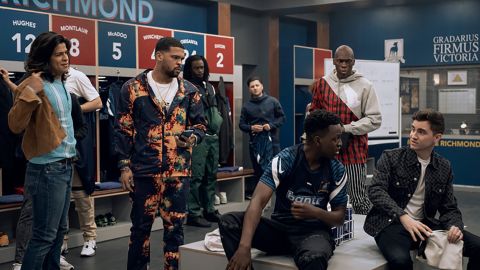 Nate, in mocking Ted, is still hurt by thinking Ted abandoned him. Ted, in turn, manages to defuse the situation by, well, being Ted. He wishes Nate well but reveals that he's still hurt by Nate's actions. So he makes a joke about Nate's insult being too simple, then comes up with a lot of other insults Nate could have used against Ted. He gets the press involved, making them co-conspirators in mocking him, but really as a way of undermining Nate's hostility.
Nate, it should be said, doesn't seem to learn his lesson and we see him slam his computer in frustration. But Rebecca, who had been urging Ted that he needs to "fight more," this season is persuaded that community can be built through love, through caritas, through humor, not necessarily in opposition even to people who approach you with hostility. But how we tell the stories about ourselves, whether through self-deprecating jokes like Ted or pointed derision like Nate, shape what's possible.
As historians, we like to tell our students when they're confronted with a puzzle – with a problem of what something means – that it's always best to return ad fontes ("to the sources"). We do this because the stories people tell about the past, whether it be about a nation or a romantic relationship, pile up over time. This is the core of what history is. Pushing away all those layers won't necessarily get us to a particular truth about what something means, but it will help us understand why and how certain stories have been told about an event. History doesn't rule our actions entirely, but it does shape at least in part how we got to where we are and why we think our choices are so constrained.
Season Three of "Ted Lasso" shows that there's a specter haunting west London – the specter of the past. Ted is still tormented by his decision to come to London. Rebecca continues to be haunted by her relationship with Rupert. Keeley is bedeviled by her new job and relationship with Roy. And Nate cannot escape his past actions towards Ted at the end of last season.
As we watch along and root for AFC Richmond, we can only hope that Ted and everyone else also pauses to think about the past, understand why they are where they are, and realize they can use that past to find better possible worlds.