These Women Wrestlers Have Been Banned From Competing — And For A Frustrating Reason
Zainab Ibrahim was excited to compete in the World Team Trials wrestling tournament. At stake was the opportunity to represent Team USA at the World Championships in Belgrade, Serbia, this fall.
But shortly before she was set to wrestle at the 2023 Women's National Championships in Spokane, Washington, last weekend, her coach called with some news: Ibrahim, who is Muslim and wears a hijab and modest clothing for religious reasons, would be allowed to cover her hair ― but she'd have to compete in a singlet without any clothing underneath, leaving her arms and legs exposed.
Ibrahim withdrew from the competition.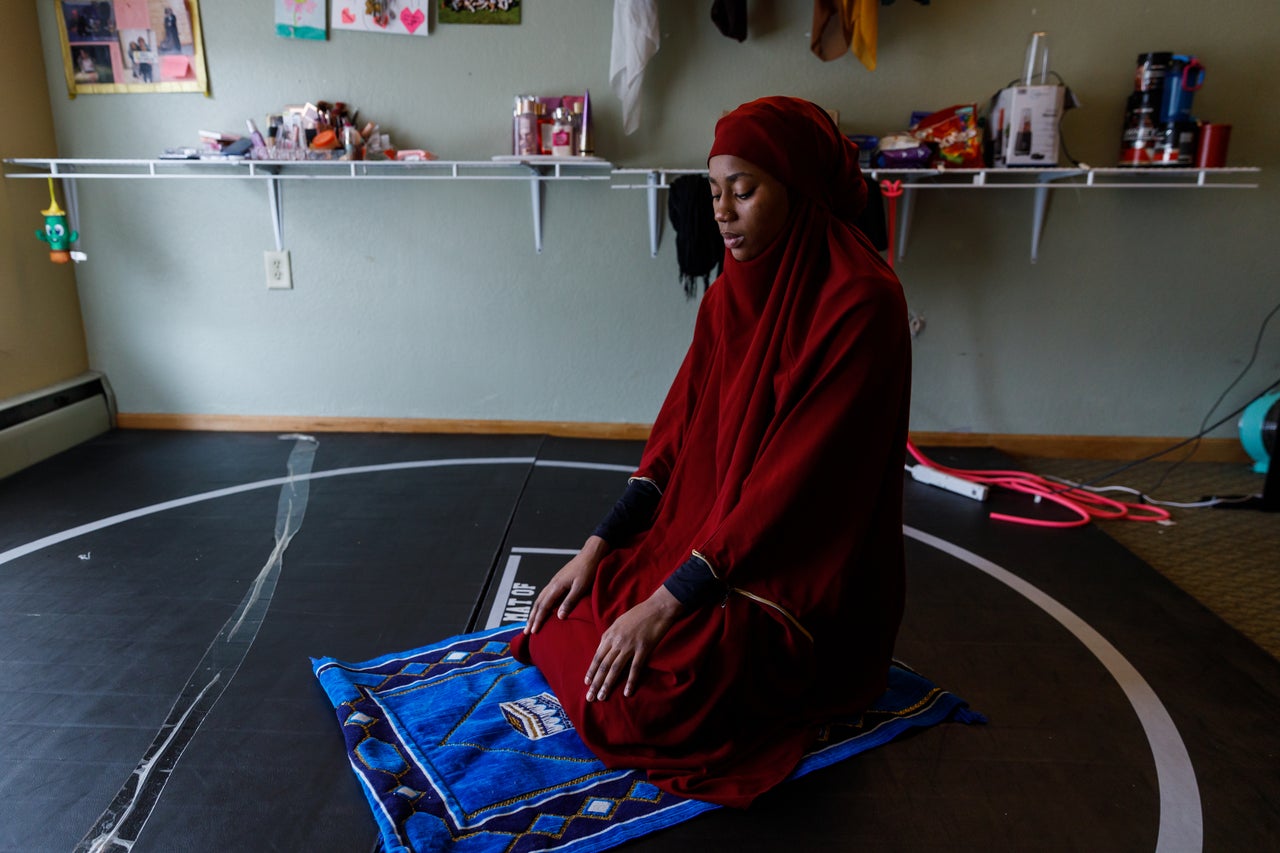 "I was angry," said Ibrahim, who is 18 and a first-year political science major at Umpqua Community College in Roseburg, Oregon. "I can't help but feel it's targeted by not letting Muslim women compete."
Wrestling is one of the fastest-growing sports among girls in the United States. Young Muslim women from a range of ethnic backgrounds and experience levels have taken to the sport, competing across the country while adhering to their Islamic faith.
But many Muslim women wrestlers have hit obstacles due to their need to dress modestly. They've been prohibited from participating in competitions and even forced to forfeit their wins. They're pushing back on what they say are arbitrary dress codes that keep women like them from advancing in the sport.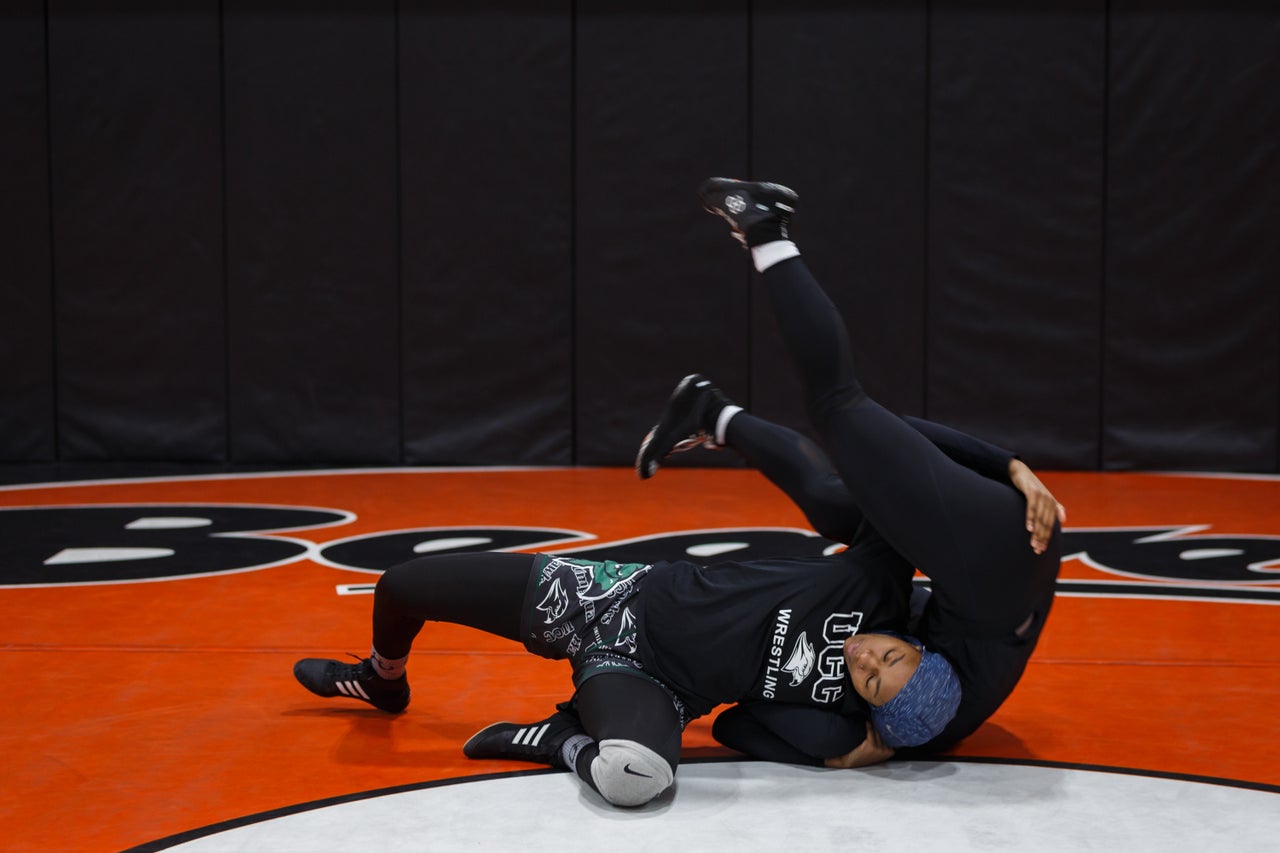 Wrestling As An American Muslim Woman
Ibrahim was in middle school when her mother came home from shopping and told her about seeing a World Wrestling Entertainment match on TV. Ibrahim's mother, an immigrant from Kenya, was at once in awe, gleefully perplexed and intrigued by the mix of competition, performance and choreography. The family began to watch WWE together.
When Ibrahim learned in 2018 that her middle school offered wrestling as an after-school program, she immediately enrolled. It only took one practice for her to realize that the physically taxing sport was different from the WWE matches she watched on TV.
She was the only girl who'd signed up for wrestling, and she decided to quit because she was uncomfortable. Her coaches encouraged her to give it a few more tries.
Ibrahim has been wrestling since.

She wore her hijab and practiced in sweatpants and a shirt, like the rest of her teammates. During competitions, she initially wore a long-sleeved shirt and leggings under her singlet. Later, she ditched the singlet for the more modest option of a T-shirt and shorts over leggings and a rash guard.
The school and her teammates were supportive throughout. She initially just had one concern ― her hijab kept slipping. So she got in touch with the only other hijab-wearing Muslim wrestlers she knew: the McBryde sisters, three young women from Buffalo, New York, who made news because of their own experiences as Muslim wrestlers.
Jamilah, Latifah and Zaynah McBryde hail from a family of wrestlers. Their father, Mustafa, wrestled throughout high school and college, and their brother Muhamed followed in his footsteps in college. The entire family traveled across the country for matches, often winning in their divisions.
But the family also had to deal with hurdles when it came to the rules and their Islamic faith. In 2013, Muhamed missed nearly a year of competitive wrestling while attending the University at Buffalo because NCAA rules at the time prohibited facial hair in matches. He was later granted a waiver and allowed to compete.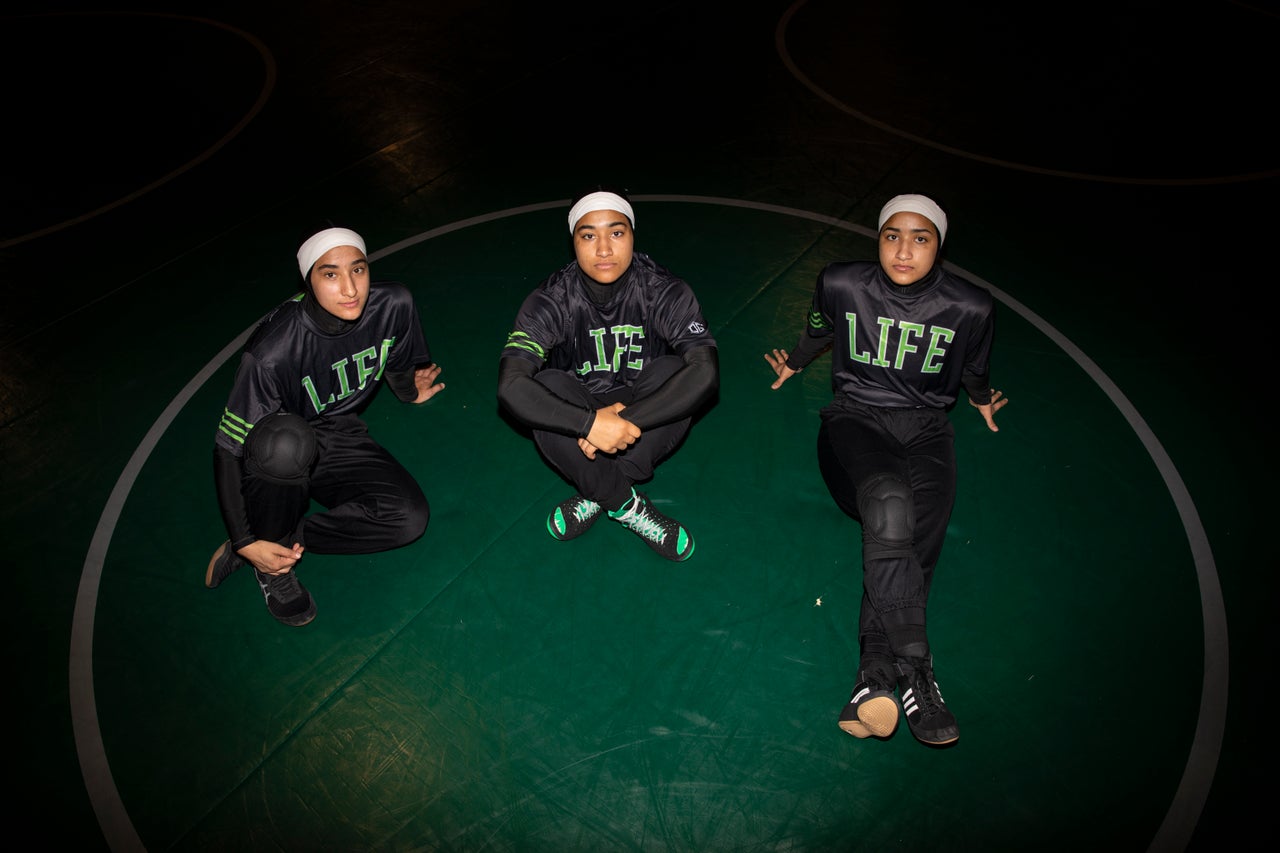 Prior to each tournament, the McBryde sisters had a checklist that their non-Muslim counterparts did not have to deal with. The girls, who do not wear traditional singlets for modesty reasons, sought out waivers and permissions prior to every tournament. They also requested that their mandatory weigh-ins be conducted in a private room with only women during college matches.
While the sisters received plenty of support, they were also clearly treated differently at times. Referees would occasionally overlook points, or wouldn't pause the match if someone's hijab fell and covered her eyes.
Through a process of trial and error, the McBrydes figured out how to keep their hijabs from slipping and getting in the way. Their mother sewed their hijabs to their shirts. They taped their hijabs to their headgear, a hack they have since shared with other Muslim women wrestlers. Their local coach went out of his way to order uniforms that included a built-in hijab.
By May 2022, the sisters had competed all over North America when USA Wrestling, the national governing body for wrestling in the United States, granted them all a waiver to wear their modified uniforms at a national tournament in Texas.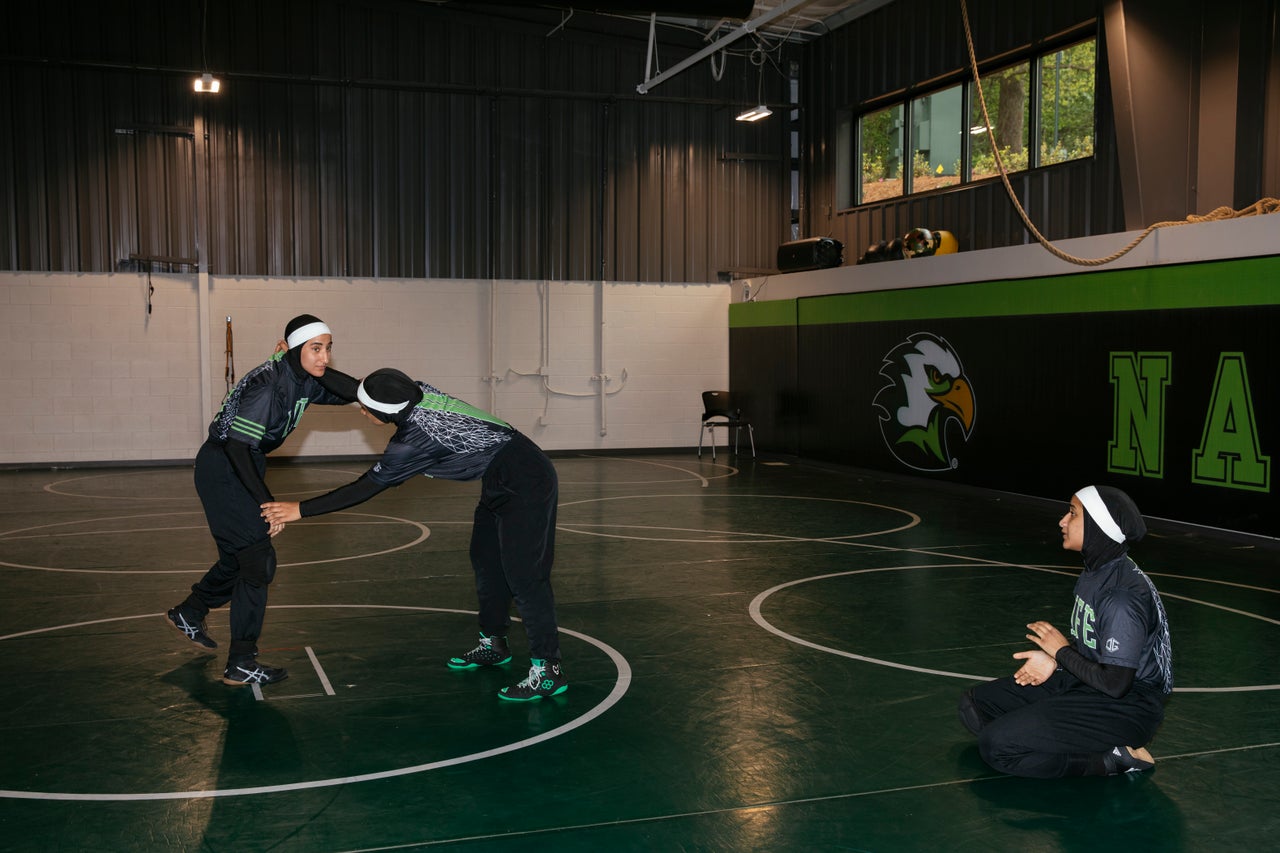 There, Latifah placed second, earning a spot to represent the U.S. at the Pan-American Women's Wrestling Championship later in the summer. Latifah was elated, and her sisters beamed in pride.
But the excitement was short-lived. The Pan-American competition is run by United World Wrestling, the international governing body for amateur wrestling, and Latifah would have to follow its rules — including those pertaining to clothing. Latifah, who is now 18, said she was told she could only compete in the championship if she wore the singlet. Ultimately, she forfeited her spot.
The organization's website says that "to compete at UWW events from January 1st 2017 onwards, athletes of all age categories must comply with the UWW Uniform Guidelines," and that the singlet is "the standard uniform which is used across all Olympic styles."
UWW did not respond to HuffPost's request for comment.
A spokesperson for USA Wrestling told HuffPost that the organization "strongly supports the opportunity of all athletes to compete on a level playing field, and it is USA Wrestling's position that the accommodation of most religious restrictions on the clothing that wrestlers wear is appropriate."
But the group said the matter is out of its hands once athletes qualify for international competitions.
"USA Wrestling will continue to advocate for more inclusive rules at the UWW level, but until and unless UWW changes its position, USA Wrestling is not at liberty to enter athletes into international competitions or in events that are on the pathway to international qualification who do not comply with UWW equipment regulations," the spokesperson said.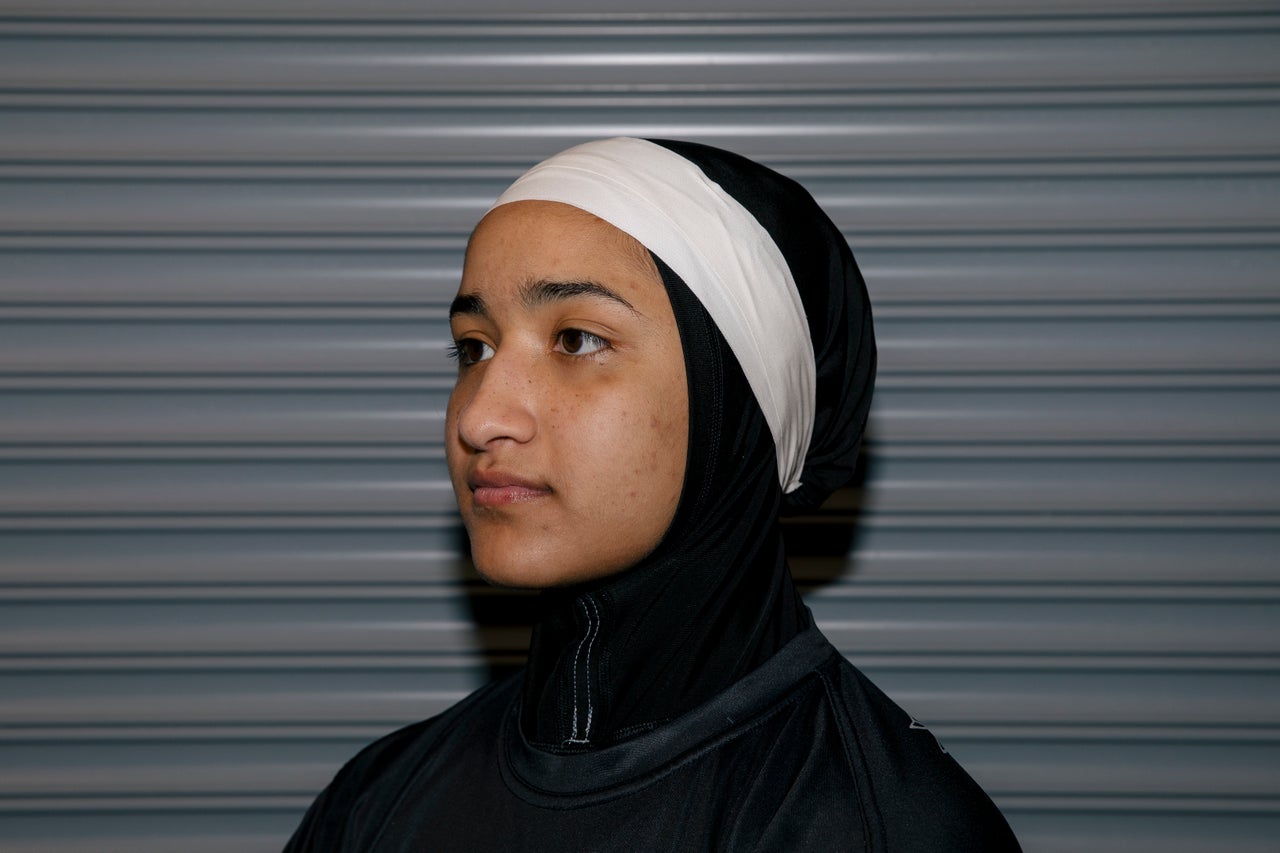 Zaynah, at 17 the youngest of the sisters, was especially emotional when she learned Latifah wouldn't be able to compete.
"She pushed herself and did all this stuff that she had to do to get there," she said. "It was just like, 'Why not?' She works harder than anybody else. That tournament proved it. She placed second. Let her go. I still get worked up thinking about it."
"The thing that was really frustrating was it was clearly because she won, because she was successful," Zaynah said. "It was fine when we were nobodies and they didn't know us coming in. Then we wrestle, and the first year we all place, and then we come the second year and she wins and is able to represent us, and then now all of a sudden we're stopped. Now we can't wrestle."
'No Way To Sugarcoat It'
Muslim women have long faced obstacles in athletics due to uniform rules, even as those rules have slowly started to change in the past few years.
FIFA, the international governing body for soccer, lifted its ban on the hijab in 2014; the basketball governing body FIBA followed suit in 2017. In 2020, the Tennessee association that oversees high school and junior high school sports activities amended its rules after initially disqualifying a hijab-wearing volleyball player from participating in school games.
But progress is slow, and Muslim athletes continue to face discrimination. Just last year, French lawmakers proposed a hijab ban in competitive sports there.
"When you look at sports in general, the whole idea is to have the physicality of freedom ― that's really what we're talking about here," said Shireen Ahmed, a senior contributor to CBC Sports who covers the experience of Muslim athletes. "But that's not an option for these athletes, and it's really frustrating."
Ahmed said athletic organizations often say hijab bans are a safety issue, but that there is no evidence that not wearing a singlet, or that covering one's arms and legs during a competition, would pose any risk. She said such prohibitions, including those from UWW, are outdated.
"It's men who have no contact or information or input from women who are actually Muslim who are creating these regulations," Ahmed said. "It's outwardly anti-Muslim in its sentiment. There's no way to sugarcoat it."
But despite the challenges, Muslim women and girls continue to wrestle.
Ameerah Colon, a 15-year-old in Phoenix, has been wrestling since she was 12. She has learned how to tape her hijab to avoid slippage, and where to buy more modest wear. She's grateful to have a network of other Muslim wrestlers to talk to.
"I know some people think that I'm not as good, or not as strong as some of the other girls, just because I look different," she said. But she finds comfort knowing she's not the only one.
Colon's father, Abdullah, who initially encouraged his daughter to join wrestling as a means of self-defense, knows his daughter stands out in a sport that is predominantly male and white.
"Not too many women who are wearing hijab are competing," he said. "That's just the reality of the situation, so there's always a concern that there's going to draw unwanted attention."
In Winterville, North Carolina, 14-year-old Zainab Hijawi has broken barriers during her six months of wrestling.
Earlier this year, Hijawi became the first wrestler to compete at the state level while wearing a hijab. She said her teammates and the school have all been supportive, and her coaches are constantly communicating with the state to ensure she can always compete with her hijab and attire without issues. She said people in the stands cheer for her all the time. She's grateful for the support ― and surprised by it.
"My favorite part of wrestling is the sportsmanship," she said.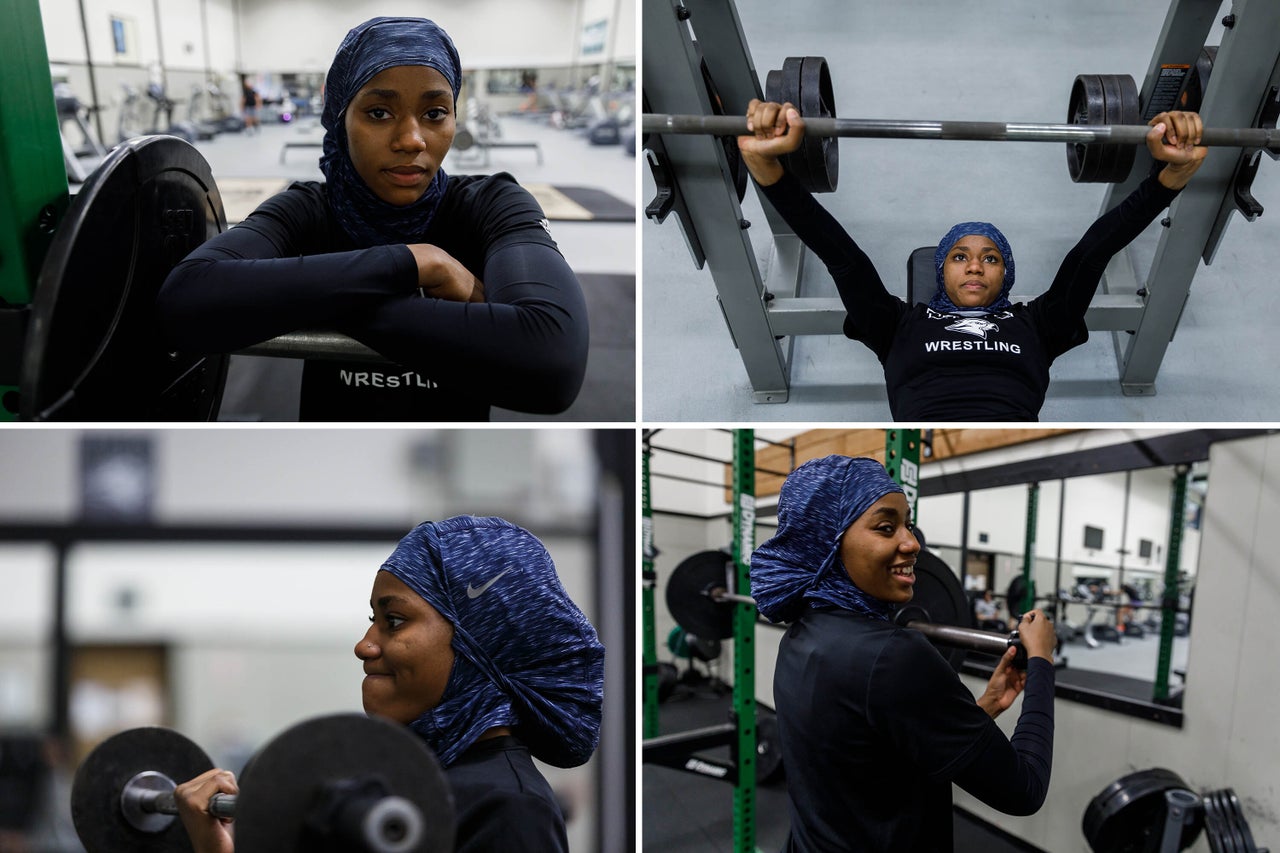 In Oregon, Ibrahim has been at the gym lifting weights, waiting for her teammates to return from Washington so she can get back to the wrestling mat.
She's hoping for an adjustment to the uniform rules so she can compete next year, and maybe even one day represent the country to which her family immigrated.
At the end of the day, she said, it's not the clothes that make her a good wrestler.
"We can compete in what we feel comfortable in," she said. "No one should feel uncomfortable doing something they love."