We are living in turbulent times. The war in Ukraine is ongoing, having just passed the one-year mark. Then, last month, a devastating earthquake struck southern Turkey. Many people have lost loved ones and are continuing to look for them with sorrow and regret all over the world.
In Japan, approximately 18,000 people died or went missing due to an earthquake and tsunami in the Tohoku region 12 years ago on March 11, 2011 — the most powerful quake ever recorded in the country.
Norio Kimura lost his 7-year-old daughter to the tsunami caused by the earthquake. His home was next to the Fukushima Dai-ichi Nuclear Power Plant, where hydrogen explosions occurred as a result of the quake. He has been striving to find his daughter, even though the entrance to the area where he lived was restricted due to the effects of radiation. Now, he wants this place to represent a lesson for future generations.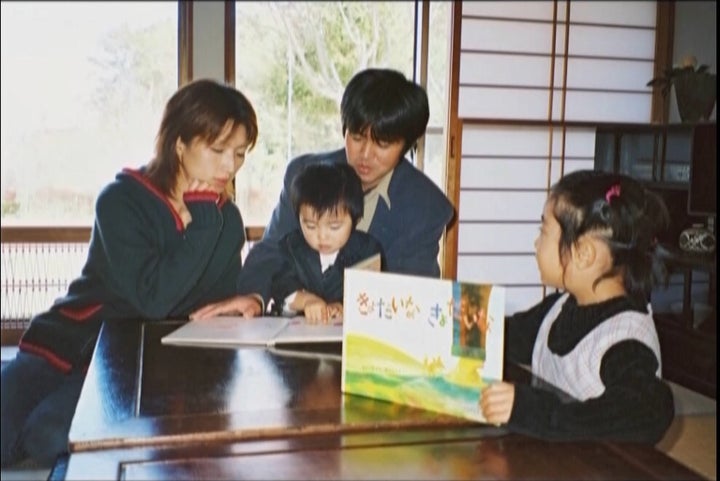 Kimura lived in Okuma town with his wife, first daughter Mayu, second daughter Yuna and his parents. At 2:46 p.m. on March 11, 2011, Kimura's life, and those of his family, changed completely.
The earthquake struck with a magnitude of 9 and unprecedented shaking hit Okuma. Kimura, who was working in a neighboring town, had to deal with the mess it created. His boss told him the radio had announced that a 3-meter (nearly 10-foot) tsunami was incoming.
Although Kimura's house was about 100 meters (328 feet) from the coast, he thought the tsunami couldn't reach them because the house was more than 5 meters (16 feet) above sea level. When Kimura came home from work, however, he found that his house had disappeared without a trace. He immediately went to a shelter in town and found his mother and Mayu. However, his father, his wife and Yuna were missing.
Kimura frantically searched other shelters and hospitals but could not find his family. It was already dark outside, but when he returned to the place where his house once stood, his dog ran up to him. Looking closely, he saw the dog was covered with sand.
"It's possible … that the tsunami took them," he said.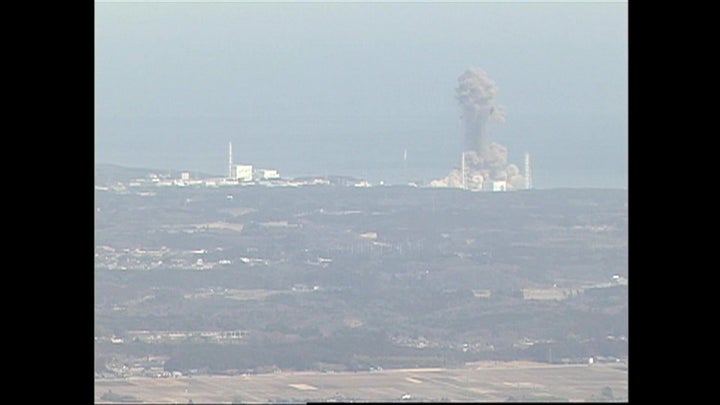 Kimura became very anxious and spent the whole night searching for his missing family along the coast with a flashlight. A neighbor found Kimura and with a tragic expression said: "The nuclear power plant has become dangerous. We must evacuate. At this point, our priority must be to save the people who are still alive."
Kimura and his mother, first daughter and dog got into their car and evacuated 700 kilometers (about 435 miles) away to Okayama prefecture, where his wife's parents live.
The Only One Who Couldn't Be Found
A week later, Kimura returned to Fukushima. He had not given up hope that his missing family members were still alive somewhere. He made a leaflet with a picture of his family on it, and then visited evacuation centers and hospitals inside and outside the prefecture.
However, his worst fears began to manifest when, on April 10, his wife was found dead at sea, 30 kilometers (about 19 miles) offshore. Then, on April 29, his father was found dead in a rice field in front of his house. Yuna was the only one who could not be found.
The nuclear accident had made the situation worse. Due to the large amount of radioactive material that had leaked from the nuclear power plant, starting April 22, entry into Kimura's hometown was prohibited.
Access was only permitted once every three months, and even then, only for two hours. Kimura kept looking for Yuna alone.
"I hadn't taught my daughters what to do if a tsunami comes. If I had told them that you mustn't go to the coastline after earthquakes, Yuna wouldn't have gone to our house. That is my deepest regret," he said.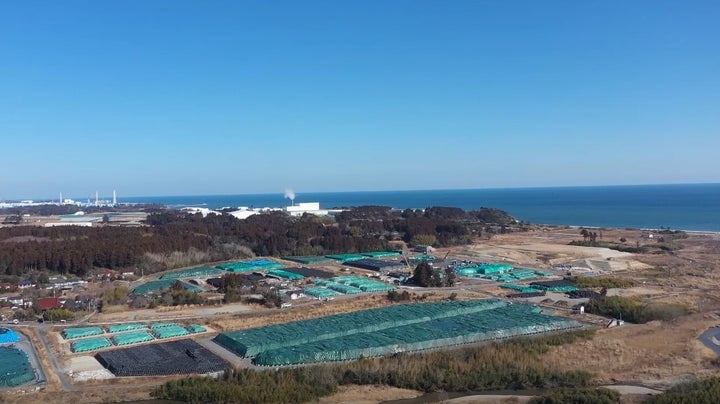 After that, Kimura decided to move with Mayu to Nagano prefecture, about 290 kilometers (180 miles) from Okuma.
Then, in 2014, the government announced a policy to nationalize the land around Kimura's home. In Fukushima prefecture, decontamination to remove radioactive substances from the environment was underway, and Kimura's house was also within the planned site of an interim storage facility, which required vast amounts of land to temporarily store decontaminated waste.
The Ministry of the Environment, which has jurisdiction over the decontamination, began negotiations with the owners of the land, asking them to sell it. Kimura said that he would never sell or rent his land.
"Of course I want to find Yuna, and at the same time, I think that searching for her itself is a connection to her," he said.
However, the search was extremely difficult. What he could do was to search manually in the vast pile of rubble in a limited time.
A Daughter's Bone Located For The First Time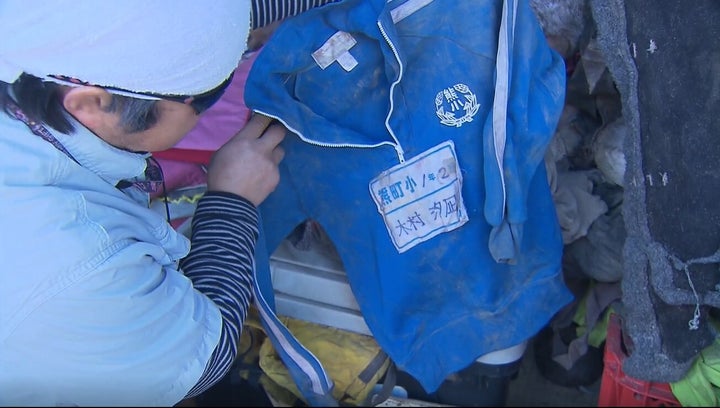 On Nov. 20, 2016, Kimura decided to ask the Ministry of the Environment to search using heavy machinery. His request was granted. So, on the ninth of the following month, after using heavy machinery to search the pile of rubble, a worker informed Kimura that they had found something looking like a neck bone.
When Kimura wiped off the mud from a winter scarf that Yuna had been wearing on that fateful day, he saw what were unmistakably a few centimeters of neck bone. This was the first evidence of Yuna since the earthquake occurred five years and nine months earlier.
"Due to the nuclear accident, it took almost six years to find it. It's like we let my daughter die, so my regret won't fade away," Kimura said.
Kimura's guilt over the death of Yuna caused deep, deep anguish, and he felt angry that the nuclear accident delayed him in finding his daughter.
The Search Tails Off
In 2019, Kimura moved to Iwaki city, a coastal area in Fukushima prefecture offering better access to Okuma. Since it took six hours each way from Nagano prefecture, he could only visit about 30 days a year. But from Iwaki, he could visit five days a week. However, no more bones have been found.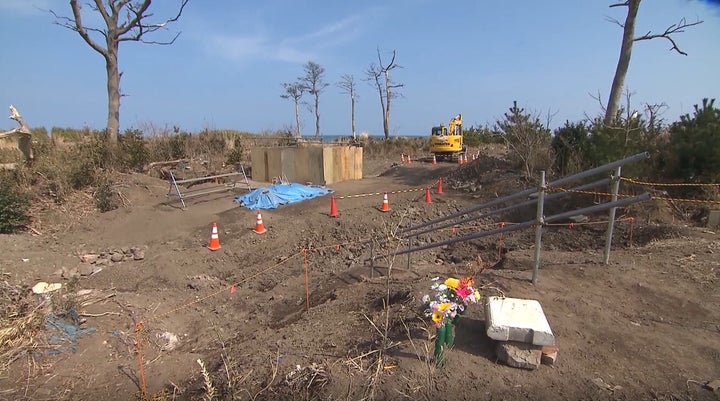 "I thought her bones might be spread in spots other than where we found her neck bone, so it's quite difficult to search the whole area. I don't know where to look," he said.
The frequency of Kimura's searches for Yuna gradually decreased.
Around Kimura's home, the preparation of the interim storage facility was rapidly progressing. Ninety percent of residents in the local district had decided to sell or lease their land to the Ministry of the Environment. Without a place to store waste, the decontamination could not be conducted as planned.
"Am I disrupting the reconstruction?" he thought. Since Kimura had decided not to sell his land, he had conflicting feelings swirling inside his mind.
There was one man who buoyed Kimura's spirits: Takamatsu Gushiken, who has 40 years' experience as a volunteer collecting the remains of war dead in Okinawa prefecture, a southern island in Japan. He has found remains in caves used by residents during the Battle of Okinawa, some of which were delivered to bereaved families.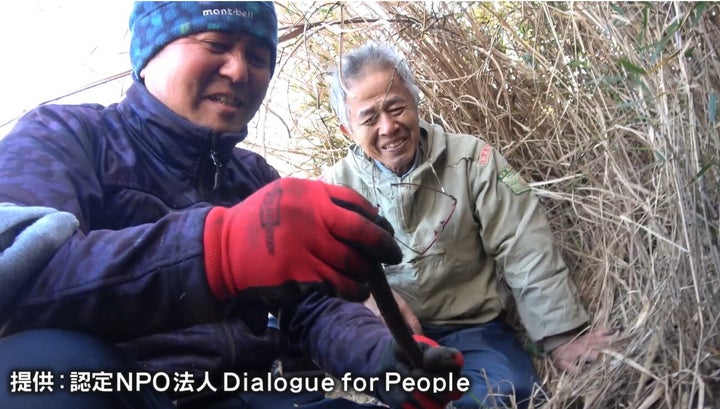 In spring 2021, Kimura visited Okinawa after being introduced to Gushiken through a mutual friend. Then, he witnessed firsthand where Gushiken collected remains. Gushiken thought deeply about Kimura's burden and spoke with kind words.
"Digging up and approaching a deceased person is a kind of memorial service. Even if you can't find her, I think that the attitude of trying to get close to Yuna is something very meaningful. If you hesitate to speak up, I think people around you should support you. You don't have to hold back at all," Gushiken said.
Gushiken's words inspired Kimura.
'Your Dad Is Here'
In January 2022, Gushiken traveled to Okuma, and Kimura resumed his search for Yuna for the first time in about three years. Gushiken walked around the site and checked bumps on the ground. Suddenly, he stopped walking. It was the place where part of Yuna's neck bone had been found years before.
Using shovels, they began digging a hole several meters below where the remains had been located. About 20 minutes later, Gushiken discovered what looked like a long, thin stick in the ground. "No way." Kimura continued to dig there.
"Yuna, wait! Your dad is here!" Gushiken's voice trembled.
What Kimura unearthed was the femur of a child, measuring about 25 centimeters (10 inches) long. Yuna was the only child killed by the tsunami in the immediate area. Kimura's eyes filled with tears, and he discarded his shovel, digging with his hands.
"Maybe I haven't searched enough. Yuna was here," Kimura said.
He held his daughter's remains in his arms, gently stroking them over and over again. "I finally found Yuna," he said. What he felt at that moment was different from the first time he'd found her remains.
A Father's Regrets And Lessons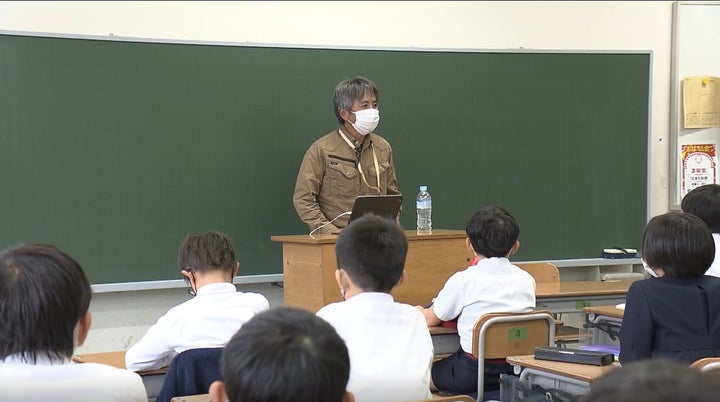 Kimura started telling people about his experiences. In October, he gave a lecture about the disaster at an elementary school. The students were 8 and 9 years old — about the same age as Yuna — and had yet to be born when the earthquake occurred. Kimura asked the children to think about what they would do if a disaster struck.
"I would like everyone to be able to protect the lives of yourself, your families and your friends. Please think about this carefully, together."
About half the area of Okuma is now habitable after evacuation orders were partly lifted. Kimura hopes to one day return to live in the town, where Yuna is and where he has many memories of his family.
A Message From Fukushima
When faced with a tragedy such as a massive disaster or war, victims are typically expressed in numbers. However, we must not forget that each victim has loved ones, and that the importance and loss of life cannot be measured in numbers.