MENOMONEE FALLS, Wis. ― When Jodi Habush Sinykin, a Democratic candidate for Wisconsin state Senate, explains why she's running, she speaks about Wisconsin being at a "tipping point" for abortion rights, "democracy" and "our local community's well-being."
But Habush Sinykin, an attorney with a lilting Great Lakes accent, also talks about neighboring states where Democrats have more power: Minnesota, Michigan and Illinois.
After Wisconsin's abortion ban took effect in 2022, Wisconsin women "suddenly were put back into this second-class status [relative to] Michigan, Illinois and Minnesota," she told a crowd of voters at an informal fundraiser in a funky suburban art gallery on March 23. "That's where this legislature has put us."
Democrats are celebrating midterm election gains that brought them unified control of state government in Minnesota and Michigan for the first time in years and preserved their trifecta in Illinois. Those wins have empowered the party to counter conservative decisions by the U.S. Supreme Court and the actions of Republican leaders in other states.
In Minnesota, Gov. Tim Walz (D) signed a bill providing every public-school child in the state free breakfast and lunch, regardless of their parents' incomes. In Michigan, where voters enshrined abortion rights in a November referendum, Gov. Gretchen Whitmer (D) signed a bill undoing the state's "right-to-work" status, clearing the way for labor unions to once again charge dues from all members they are legally required to represent.
And in Illinois, last year, Democrats even gerrymandered a congressional district map that offsets the effect of GOP gerrymandering in states like Texas and Florida, and could help the party retake the U.S. House of Representatives in 2024.
But in Wisconsin, where Republicans spent the better part of a decade ruthlessly consolidating power, Democrats' gains have been more modest and fitful.
In November, the Democratic governor, Tony Evers, and attorney general, Josh Kaul, were reelected, but so was Republican U.S. Sen. Ron Johnson.
"This is not a hypothetical threat. This is real and this will happen."

– Jodi Habush Sinykin, Democratic candidate for Wisconsin state Senate
In addition, ironclad Republican majorities in the Wisconsin Legislature, abetted by favorable district boundaries, have largely limited Evers to blocking the GOP's bills with an unprecedented number of vetoes. Meanwhile, GOP gerrymandering helped Republicans come within inches of obtaining a veto-proof supermajority in the state legislature in November.
The policy implications of this gridlock have been significant. Among other things, Wisconsin is the last state in the Midwest not to use federal money allotted under the Affordable Care Act to expand Medicaid to include all families at or near the federal poverty level. The federal government picks up 90% of the tab for any state that chooses to guarantee Medicaid to people with incomes up to 138% of the federal poverty level.
In an interview with HuffPost following her remarks at the fundraiser, Habush Sinykin said that the state legislature's refusal to expand Medicaid "makes no sense."
Although Habush Sinykin holds up Minnesota as a positive model, she is loath to draw negative comparisons that embody her fears of the direction in which Wisconsin is headed. Some supporters, who tagged along to watch HuffPost interview Habush Sinykin, nonetheless said that it's not uncommon for Wisconsin Democrats to fret about the prospect of the state turning into "Wississippi" ― a play on the famously conservative, impoverished Southern state.
In Tuesday's elections, the race to fill an open state Supreme Court seat in Wisconsin has understandably drawn the lion's share of national attention and resources.
Justice Patience Roggensack, a conservative, is not seeking a third term on the court, where conservatives currently hold a 4-3 majority.
Roggensack's retirement has sparked one of the most heated and expensive judicial races in Wisconsin history. Judge Janet Protasiewicz, a liberal, is competing with former Justice Dan Kelly, a conservative, for the open seat that will determine the ideological balance of power on the court.
Wisconsin's Democratic Party has transferred millions of dollars into Protasiewicz's coffers in the hopes that her ascent will strike down an abortion ban from 1849 that took effect after the overturning of a federal right to abortion last June. Attorney General Kaul has sued to stop the law from taking effect, but pending clarity on that law, the state's reproductive health clinics have stopped providing abortions.
Democrats are also counting on a more liberal high court to invalidate state legislative and congressional maps that Republicans have gerrymandered to their advantage.
Given the potential for new maps, Joe Zepecki, a Wisconsin Democratic strategist, described a Protasiewicz win as "an opportunity to have an opportunity."
Republicans and conservative legal experts are equally invested in Kelly's victory, though they have largely supported Kelly through more indirect channels than their Democratic counterparts. They paint the race as their Alamo moment to thwart a kind of liberal judicial activism that undermines the authority of the state lawmakers who pass laws and the voters who elect said lawmakers.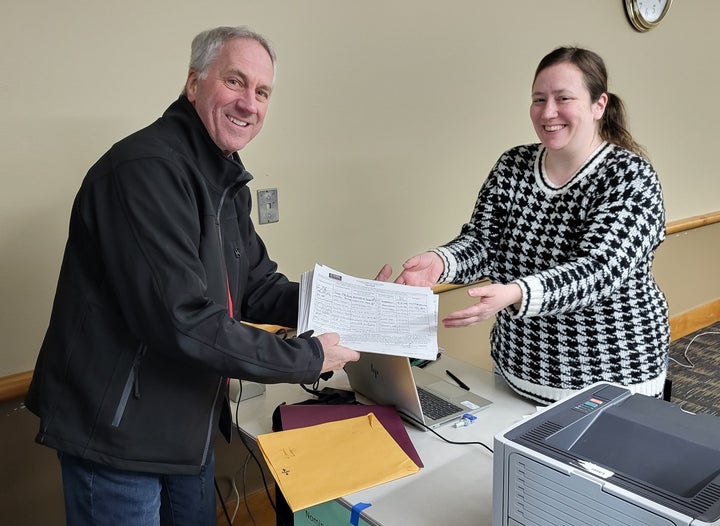 "There's a lot of talk now about preserving democracy. And if you want to talk about the 2020 election being stolen, I think it's a bunch of hooey," said Rick Esenberg, president of the Wisconsin Institute for Law and Liberty, an influential conservative law firm and think tank. "But there are other types of threats to democracy. And empowering the judiciary to overrule people's elected representatives when there's no clear constitutional warrant to do it is in itself a threat to democracy."
But in the state Senate special election in which Habush Sinykin is competing, Republicans and Democrats have a more traditional partisan standoff.
Notwithstanding the dearth of attention it has received relative to the judicial contest, the policy and political stakes of the contest are significant.
Habush Sinykin, a Harvard-educated attorney who married into a family that owns a unionized textile manufacturer, is running against state Assemblyman Dan Knodl (R) for the chance to succeed retiring state Sen. Alberta Darling (R).
In November, Wisconsin Republicans flipped a state Senate seat held by Democrats, temporarily providing them a two-thirds majority. But Darling's departure on Dec. 1 quickly deprived the GOP of that supermajority. A win for Habush Sinykin in the newly open seat would ensure that the GOP continues to lack a supermajority in the state Senate for the foreseeable future.
Republicans need a two-thirds majority in both legislative chambers to override Evers' vetoes, and they are still several votes short in the Assembly. But complementing their simple majority in the Assembly with a two-thirds majority in the state Senate would enable them to impeach Evers and expel him from office.
Referring to the prospect of Evers' impeachment, Habush Sinykin said at the March 23 fundraiser, "This is not a hypothetical threat. This is real and this will happen."
In making his case to voters, Knodl has indeed cited the power of impeachment that his victory would unlock. But in an interview with PBS, he focused on the need to impeach liberal prosecutors and judges who are "not following the law." He was noncommittal about impeaching Evers, claiming that he doesn't see it on "the radar screen" and that he wants to work with the governor.
Many Democrats quietly see the odds of Habush Sinykin's victory as lower than those of Janet Protasiewicz ― not least because Knodl defeated a more right-wing figure, Assemblywoman Janel Brandtjen, in the Republican primary. Brandtjen, who has used her perch to try to retroactively decertify the 2020 presidential election results, had former President Donald Trump's endorsement.
But Habush Sinykin notes that Knodl joined Brandtjen in signing a Jan. 5, 2021, letter to then-Vice President Mike Pence calling for him to delay the Jan. 6 certification process in Congress to "afford our nation more time to properly review the 2020 election."
For Charlie Sykes, an anti-Trump conservative pundit who lives in Mequon, Wisconsin, Knodl's name on the letter is more than enough to convince him to vote for Habush Sinykin.
"These are disqualifying things for me," Sykes told HuffPost.
HuffPost was not able to reach the Knodl campaign for comment for this story.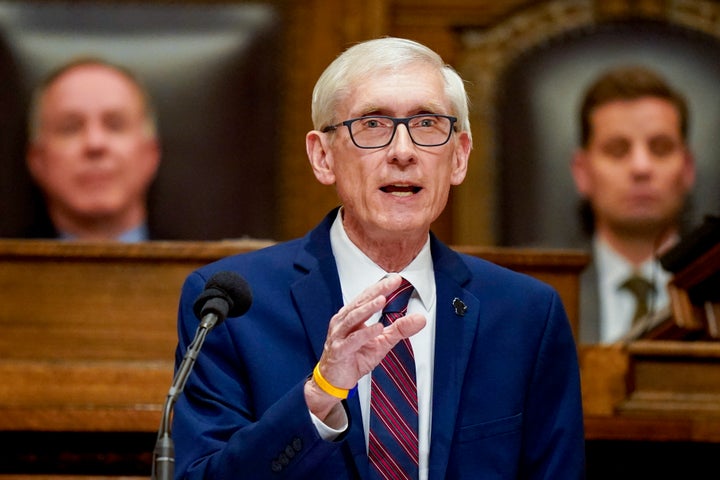 For years, the conservative tilt in the three suburban "WOW" counties surrounding Milwaukee ― Waukesha, Ozaukee and Washington ― propelled Republicans like former Gov. Scott Walker to power.
The incremental shift of many of those suburban communities toward Democrats ― in 2020 because of many traditional Republicans' aversion to Trump and in 2022 due to the Supreme Court decision overturning Roe v. Wade ― is the driving factor in the Democratic comeback in Wisconsin.
The change has been especially noticeable in Ozaukee County, where Mequon is located. In 2018, Evers received just 36% of the vote in the county, but in 2022, he received 44% of the vote.
Habush Sinykin's fortunes could depend on Protasiewicz's ability to generate support in the suburbs, but Protasiewicz could benefit from a strong Habush Sinykin showing as well, the state Senate candidate said.
"I am hoping for positive synergy," Habush Sinykin told HuffPost.
Senate District 8, which Habush Sinykin is seeking to represent, is gerrymandered into an odd shape that includes more liberal suburban communities along Lake Michigan, closely split battleground communities like Mequon and Menomonee Falls, and more conservative redoubts like Germantown, from whence Knodl hails.
In her remarks to supporters on March 23, Habush Sinykin sketched out a path to victory that included 50% of the vote in Mequon, 40% in Menomonee Falls and 20% in Germantown, while running up the score in more Democratic areas.
The Democratic candidate claims that she hears from a lot of Republican voters who are supporting her because they are worried about abortion rights or the fair administration of the 2024 election.
To help give them a permission structure to cast a ballot for a Democrat, Habush Sinykin emphasizes her interest in providing "balance" in GOP-controlled chambers and finding compromise where possible, potentially including an area like tax policy.
Does that compromise extend to abortion rights, where Wisconsin Republicans have signaled that they are open to something less strict than the criminal penalties in the 1849 law?
Habush Sinykin insisted that Democrats should not begin negotiations until the 1849 law is struck down.
"There could be something worked out different than what we had under Roe v. Wade," she said, sketching out a scenario where compromise legislation is crafted in consultation with women, doctors, attorneys and other key stakeholders. "But it's not going to happen based on the shaky foundation of an 1849 law."