CNN
 — 

While I was playing with my toddler at the park in 2012, another mom told me about a new show that "you have to see": "Daniel Tiger's Neighborhood." Soon, I was hearing the show's coping strategy jingles everywhere. How many of us used the song, "When you have to go potty, stop and go right away" to toilet train our kids?
Much of the animated series' appeal comes from its fidelity to Fred Rogers, who died 20 years ago this week. Rogers' show "Mister Rogers' Neighborhood," which ran from 1968 to 2001 on PBS, was a transformative force in children's media — largely because of the way it focused on children's emotional development.
While they may no longer have use for Daniel Tiger's "potty song," older kids face other challenges. And though the first children who watched the show on PBS are now tweens and teens, the show's lesson can still help them in the midst of our current mental health crisis.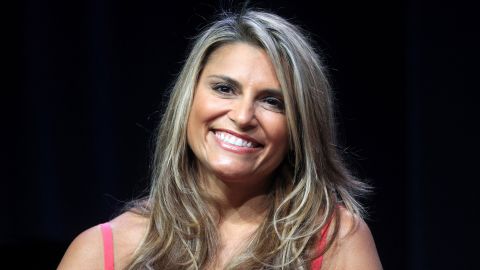 I recently spoke to show creator Angela Santomero, who said she took Rogers' beloved wisdom to heart as she "set out to create 'Daniel Tiger's Neighborhood' for preschoolers — and for the teens that our first viewers have grown up to be."
Here are three messages from Daniel Tiger and Rogers that not-so-little kids still need to hear.
Teens need the reminder that simply naming emotions is a powerful mental health strategy. According to research from neuroscientist Lisa Feldman Barrett, people who could "distinguish finely among their unpleasant feelings — those '50 shades of feeling crappy' — were 30 percent more flexible when regulating their emotions, less likely to drink excessively when stressed, and less likely to retaliate aggressively against someone who has hurt them."
"Helping kids of any age to label and express their emotions is one of the key lessons from Fred Rogers," Santomero said. That's why so many "Daniel Tiger's Neighborhood" episodes pair a single emotion with a strategy song – like anger ("When you feel so mad that you want to roar, take a deep breath and count to four.") or sadness ("It's OK to feel sad sometimes. Little by little you'll feel better again.").
Finding the right word to express how you are feeling inside isn't always easy. I spent several years as a middle and high school teacher, and I remember chatting with a teen who said she was "so angry" with her best friend, but she didn't know why.
Soon we began to talk about the college process, and she revealed that her friend had outscored her on the SAT. What she was really feeling, she realized, was jealousy, self-doubt and worry about the future. Once she could name that, her anger "evaporated." When you can identify what you are feeling and why, it's easier to figure out what to do next.
"If kids as young as preschoolers can start learning these strategies, our hope is that once they become teens they will have some tools to deal with hard situations that are mentally challenging," Santomero said.
Remember all the newness and change your preschoolers faced — and how much they needed your comforting presence? Now think about tweens and teens: Their bodies are changing, their brains go through a second growth spurt, they face social and academic pressures, they are increasingly aware of societal problems, and they are doing the hard work of figuring out their identities and planning for the future.
If there's one essential message from Rogers that I carry with me both as a parent and educator, it's this: Don't worry alone. As he said, "Anything that's human is mentionable, and anything that is mentionable can be more manageable. When we can talk about our feelings, they become less overwhelming, less upsetting and less scary."
Adolescent psychologist Lisa Damour says that for teens, strong emotions are "a feature not a bug." In her new book "The Emotional Lives of Teenagers: Raising Connected, Capable, and Compassionate Adolescents," she writes, "It's beyond our power to prevent or quickly banish our teens' psychological pain, nor should that be our goal. We can and should, however, help our teenagers develop ways to regulate their emotions that offer relief and do no harm." And this starts with listening.
One of my favorite aspects of Daniel Tiger is the way the adults in his life pause to really listen to his concerns. In the show's very first episode, Daniel's mom helps him work through his worries about going to the doctor with the song, "When we do something new, let's talk about what we'll do."
Really listening to preschoolers or teens is a skill, said Santomero. It takes practice to "lean in, focus, ask relevant questions, and listen with your whole heart." This kind of attentive listening "shows how empathetic you are to their situation, how much you care about them, and how important they are to you. And that goes a long way in supporting their mental health."
One strategy from "Daniel Tiger's Neighborhood" that can help parents of teens is "thoughtful pausing," said Santomero, who is also a co-creator of "Blues Clues."
Pausing during a conversation or vent session can give teens "time to get their thoughts together and reflect," Santomero said. "It helps to make sure that it's a two-way dialogue." These pauses also open up space for teens to find their own solutions.
When I watched that first season of "Daniel Tiger's Neighborhood" with my child, I found myself tearing up more than once because the familiar songs and messages brought back how Rogers made me feel as a young child: special.
We don't need research to tell us how important unconditional love is for teens — but that data exists, regardless. In a 2014 study in the journal Child Development, researchers found that "parental warmth" amplifies every other effective parenting strategy, from setting boundaries to helping teens "tackle the academic and psychological challenges of secondary school."
How did researchers measure parental warmth? With survey questions as simple as, "How often do you let your child know you really care about him/her?"
That warmth was a gift Rogers offered children every day when he signed off his show with, "You've made this day a special day, by just your being you. There's no person in the whole world like you, and I like you just the way you are." Teens need that message — even (maybe especially) when they are pulling away or pushing all our buttons.
One of Santomero's "all-time favorite Mister Rogers' moments" is a message he recorded for adults in 2002, shortly before he died. It's a message that is just as applicable 20 years later as we support the next generation:
"I know how tough it is sometimes to look with hope and confidence on the months and years ahead," he said. "But I would like to tell you what I often told you when you were much younger: I like you just the way you are. And, what's more, I'm so grateful to you for helping the children in your life to know that you'll do everything you can to keep them safe, and to help them express their feelings in ways that will bring healing in many different neighborhoods."