BUFFALO, N.Y. — Less than a year ago, a white man from out of town drove into Buffalo before posting a white supremacist screed online that denounced, among other things, "transgenderism." He then opened fire at a local grocery store, killing 10 Black Buffalonians.
On Thursday evening, another white man from out of town, who recently stated that "transgenderism" should "be eradicated from public life entirely," stepped up to a lectern at the University at Buffalo. He was grinning.
"Oh, what a great warm welcome in Buffalo," Michael Knowles told a crowd of a couple of hundred people, mostly fans, inside the Slee Hall auditorium. "Thank you for having me."
He was immediately interrupted. "Trans lives matter!" yelled two protesters near the front of the audience. "Trans lives matter!" As the chants continued, an indignant middle-aged woman in the front row stood up and demanded school security remove the protesters. Security eventually obliged, even dragging one protester from their seat as they chanted, "Fuck fascists!"
"That's not a word fit for a lady," Knowles said to laughs. "That's not the way ladies should speak. And we're going to be talking about how ladies should speak here tonight." The title of his speech was "How Radical Feminism Destroys Women and Everything Else."
Eventually, after calling the two protesters "screaming banshee maniacs," Knowles launched into his speech — repeating his call for "transgenderism" to be "eradicated."
Knowles, a prominent right-wing commentator for The Daily Wire, had been invited by the school's chapter of the Young America's Foundation, a right-wing student group. He arrived on campus less than a week after making national headlines for the "eradication" tirade he delivered at the Conservative Political Action Conference (CPAC), which was interpreted by many as proto-genocidal or eliminationist.
"Transgenderism isn't really a coherent concept that's used by anyone other than anti-trans people," Alejandra Caraballo, a clinical law instructor at Harvard and an LGTBQ rights advocate, explained to HuffPost this week. "They can get away with saying the most disturbing things about trans people by just chalking it up to either 'gender ideology' or 'transgenderism' and just saying, 'Oh, we're not talking about trans people, we're talking about the ideology,'"
Knowles' viral comments were the latest and most alarming rhetorical escalation of an American conservative movement hellbent on stripping trans people of their right to be trans.
"The problem with transgenderism is not that it's inappropriate for children under the age of 9, the problem with transgenderism is that it isn't true," Knowles said at CPAC. "There can be no middle-way in dealing with transgenderism — it's all or nothing… Transgenderism must be eradicated from public life entirely, the whole preposterous ideology at every level."
Yet on Thursday, ahead of his arrival, trans students walked around the campus of the University at Buffalo, existing. Their existence as trans people, they said, is not an -ism or an ideology. It's who they are. Trans people have always existed, they said. And there's no way in hell they will let Knowles, the GOP, or their fellow students in the YAF eradicate them.
Abigail Reinbold, a 21-year-old trans student, was among some 50 students who gathered inside Clemens Hall on Thursday to make protest signs. "RESPECT OUR EXISTENCE, OR EXPECT OUR RESISTANCE," Reinbold's sign declared.
Reinbold watched Knowles' CPAC speech with horror and then watched Knowles claim afterward that his comments were in no way genocidal.
"He tried to make a distinction between the elimination of transgender people and transgenderism as an ideology," Reinbold told HuffPost. "And yet when he actually talks about the effects of the sorts of policy that he wants in place, it has to do with the removal of transgender people from public life, which is essentially the forcing us out of the public spheres, forcing us out of our community, from places where we can find employment, find housing, find support. That is the elimination of the people."
Reinbold added: "It's very scary for me as a transgender person to hear people talk about me that way to talk about people like me that way."
Trans scholars and other political observers agree with Reinbold, arguing Knowles was making a dubious distinction — using a rhetorical sleight of hand.
"You often saw with the Nazis in the 1920s, and in the early '30s, there'd be overt antisemitism, but oftentimes they would couch it in 'anti-Bolshevism' or 'anti-Marxism' and just say 'Judeo-Bolshevism' as a term, and say it's a broader ideology, not necessarily the people themselves. And then that just further escalates," Caraballo said.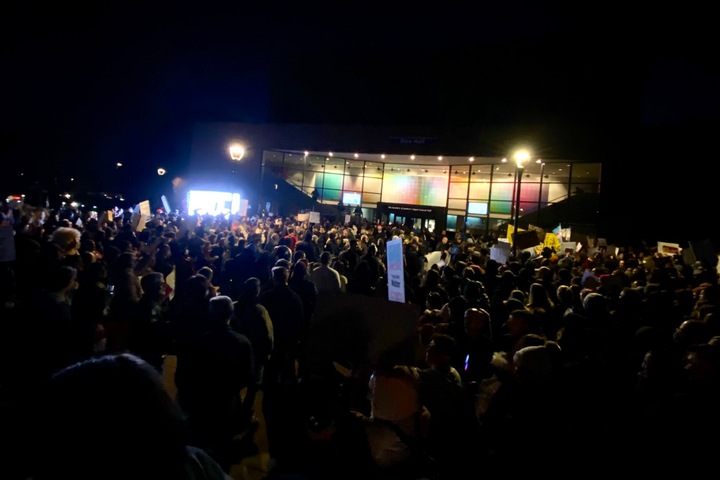 Carrie Bramen, the head of the Gender Institute at the University at Buffalo, also noted that had Knowles called for the eradication of another "-ism," like Judaism, people would understand that "it also means the eradication of Jewish people."
Bramen, an English professor at the university, also told HuffPost that when you break down Knowles's speeches — look at his uses of dependent clauses — it's clear he's talking about eradicating trans people.
"In his rhetoric, he'll use transgenderism in that speech in the position of the subject, the main agent of a sentence," she explained. "But if you look at his dependent clauses… he'll refer to transgender people. When it's a dependent clause tucked into a sentence, he absolutely says people. But when it's the subject of the sentence, he's very careful to switch to '-ism.' So that's the grammar lesson for today."
Earlier this week, Bramen sent the school's president a letter imploring her to cancel Knowles' speech. "We believe that this inflammatory language is effectively a call for genocidal violence against members of the transgender community and will, at the very least, encourage acts of violence against members of that community," Bramen wrote.
But the school's president, citing the First Amendment, let Knowles' speaking engagement go on as planned. So on Thursday, members of multiple LGBTQ+ groups set up tables inside the student union, passing out pamphlets and Pride flags, their straight and cis friends stopping by to show support.
Jack Kavanaugh, a University at Buffalo graduate executive director of GLYS, an organization that helps queer youth, sat at a table talking to undergraduate students. "Knowles wants to use terms like eradication," he told HuffPost. "As a Jewish person myself, I'm used to hearing those terms in history books, less so about people — about my loved ones."
Hundreds of students gathered outside Slee Hall to protest a short time later. They carried signs declaring "Eradicate bigotry" and "Fascism is not a family value." They also brought a loudspeaker to play music, dancing as Beyoncé sang, "You won't break my soul."
And they chanted at the right-wing students in the Young America's Foundation, who were waiting in line to get into Knowles' speech. "We're here, we're queer, we're fabulous, don't fuck with us!" they screamed at the almost uniformly young white men.
"Michael Knowles, go away! Racist, sexist, anti-gay," the protesters sang. "Michel Knowles, go away! Trans rights are here to stay!"
Police watched on warily as the two groups of students traded barbs. HuffPost saw police arrest one pro-trans protester, though the circumstances of the arrest weren't immediately clear.
J.B. Pena-Batista, a 19-year-old trans student from nearby Niagara University, snuck into line for the event carrying a sign. "To say that you would like to eradicate transgenderism is to say that you would like to eradicate full bodies of people, full bodies of human beings that breathe and bleed just like the rest of us do," he said.
"We're not -isms to be discarded," he added.
A little after 7 p.m., the doors of Slee Hall opened. No bags allowed. No weapons. Security guards waved metal detector wands over student after student. People took their seats and waited for Knowles to arrive. A couple of young conservatives discussed what speakers they could invite next to piss off the liberals on campus. Jordan Peterson, maybe. Or Charlie Kirk. Perhaps even white nationalist Nick Fuentes.
Eventually, Knowles took the stage to big cheers. Though he'd been invited to the university to give a speech about the "illogic of feminism," he addressed all the uproar over his comments about trans people.
Knowles recited his speech at CPAC word for word and then explained how he wasn't calling for genocide. "When one calls for eradicating cancer, one is not calling for murdering the cancer patient," he said.
At various points during his speech and during a Q&A, Knowles seemed to suggest that so-called conversion therapy could be a solution for making trans people no longer be trans — an argument he's also also seemed to make on Twitter.
"I think when you feel some kind of conflict between your biological sex and your perception of gender identity, then it is your obligation to bring your gender identity more into line with reality," he said. "I think we don't have the right to the fiction, to the delusion that a man can be a woman and a woman can become a man. I think if you're a man, to quote Don Corleone, 'you gotta act like a man,' and when you're a woman, you gotta act like a woman."
In 2019 NBC reported on a new study that found trans people who received so-called conversion therapy — a widely discredited practice — were more than twice as likely to have attempted suicide.
Michelle Williams, 24, a queer second-year Ph.D. student at University at Buffalo, said this is part of why Knowles' call for eradicating "transgenderism" is so inherently violent.
"The logical end of what he's saying is we're eradicating access to gender-affirming care, we're eradicating people's ability to medically transition or socially transition," Williams said. "When he says that he's talking about the ideology, and not the people like maybe he's not… calling for direct physical violence toward trans people directly, like out loud…but the material effect of what he is saying is, trans people aren't going to be able to get care. And that is going to cause them physical harm."
Knowles received a standing ovation at the end of his speech. As his fans left Slee Hall, they were greeted by a "walk of shame," protesters on either side of police barricades shouting, jeering and flashing middle fingers. Some of Knowles' trollish young fans delighted in the attention, smiling and filming themselves.
Back at the student union, disco lights danced across the floor as queer students and their straight/cis friends cleaned up from a party they had thrown during a Knowles speech — a way of providing trans students who didn't feel safe demonstrating a space to have some joy.
Clayton Shanahan, a medical student, was among the volunteers picking up popped balloons and wrapping up wires from the loudspeakers. The party had been great, they said, a celebration of transness and queerness.
Knowles' eradication comments, Shanahan said, are ultimately absurd. Trans people have always existed and always will.
"You can't eradicate transgender people," they told HuffPost. "You can't get rid of us. We are resilient, and we're here to stay."