Trump Claims He Was 'Silenced' After Choosing Not To Testify
He can't help himself — he simply must post.
Former President Donald Trump cast aside a federal judge's stern warning by claiming falsely on Tuesday that he was "not allowed to speak or defend" himself in court against E. Jean Carroll's battery and defamation allegations, when he actually declined the chance to testify days earlier.
Judge Lewis Kaplan had warned Trump's attorneys that posting to social media about the case could end up hurting him. Defense lawyer Joe Tacopina said last month that he would ask the 2024 presidential candidate to "refrain" from posting about the case, according to the legal news site Law & Crime.
He was apparently unsuccessful. As Kaplan prepared to instruct jurors and send them off to deliberate, Trump took to Truth Social to complain, saying he was "waiting for a jury decision on a False Accusation."
Carroll maintains that Trump sexually assaulted her in a Bergdorf Goodman dressing room in the mid-1990s, and is suing in civil court for an unspecified monetary sum. Trump denies the allegation.
Trump continued: "I will therefore not speak until after the trial, but will appeal the Unconstitutional silencing of me, as a candidate, no matter the outcome!"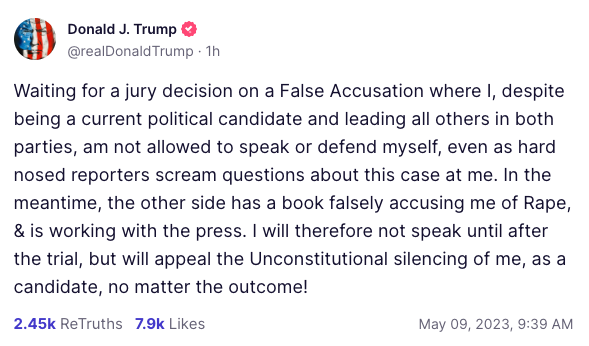 Trump has been speaking throughout the trial, at one point telling journalists in Ireland that he would fly back to New York to "confront" Carroll. Tacopina was then forced to assure Judge Kaplan that would not happen, according to Law & Crime, which obtained a transcript of the sidebar discussion.
Trump had the option to attend the trial and take the stand in his defense. Last week, after Tacopina told the court Trump would not testify, Kaplan gave him a Sunday evening deadline to change his mind. Trump's attorneys filed nothing saying they wanted to change course.