Donald Trump suggested on Saturday morning that he will be arrested Tuesday on charges stemming from Manhattan prosecutors' investigation into the $130,000 paid in hush money to adult actor Stormy Daniels.
The former president also called on supporters to "PROTEST, TAKE OUR NATION BACK" ― in what commentators interpreted as a call to violence ― in the venomous rant on his Truth Social platform. His message came just hours after he shared his first post to Facebook since being banned for inciting the Jan. 6, 2021, attack on the U.S. Capitol.
Trump doubled down later on Saturday, writing that "EVIL & SINISTER PEOPLE" were "DESTROYING" the military and country.
"THEY'RE KILLING OUR NATION AS WE SIT BACK & WATCH. WE MUST SAVE AMERICA! PROTEST, PROTEST, PROTEST!!!" he typed.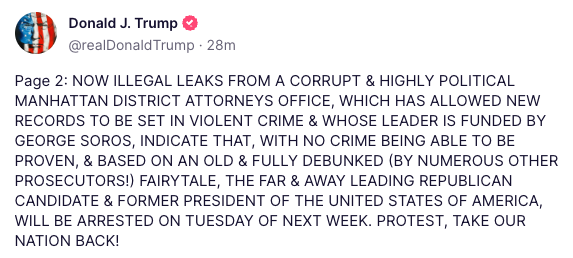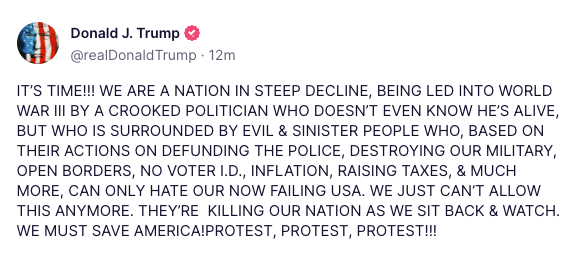 Former House Speaker Nancy Pelosi (D-Calif.) called Trump's posting rampage "reckless," saying it aimed to "foment unrest among his supporters."
"He cannot hide from his violations of the law, disrespect for our elections and incitements to violence. Rightfully, our legal system will decide how to hold him accountable," Pelosi said in a statement.
On Friday, Trump's lawyer Joe Tacopina confirmed that the former president vying for reelection in 2024 would surrender to authorities without complication if indicted.
"We will follow normal procedure if it gets to that point," Tacopina told Insider.
"There won't be a standoff at Mar-a-Lago with Secret Service and the Manhattan DA's office," the lawyer — who this week went viral for trying to grab a piece of paper from MSNBC's Ari Melber — told the New York Daily News, referring to Trump's Florida resort and the New York County district attorney.
The New York Times reported that Trump feels "deeply anxious about the prospect of arrest," having faced his first criminal investigation in the 1970s.
The potential charges against the former president stem from his alleged affair with Daniels in 2006 and accusations that he paid her off ― via a shell company created by his former attorney and longtime fixer Michael Cohen ― in exchange for her silence ahead of the 2016 election.
Trump has repeatedly called the investigation by Manhattan District Attorney Alvin Bragg's office, which is reportedly looking at whether the payment broke state laws, a "witch hunt."
Cohen, meanwhile, spent a year in prison for his role in the payment, which was made in violation of campaign finance laws. Unsealed court documents in Cohen's case suggest that Trump was involved with the payout.
If Trump is indicted, it would be the first time a former president has faced charges.
But how much support it would cost him is unclear.
Although former Vice President Mike Pence has distanced himself from Trump following the 2021 insurrection, he nonetheless came to his old running mate's defense in a radio interview, saying that the Manhattan probe "reeks of … political prosecution."
House Speaker Kevin McCarthy called reports of a possible indictment "an outrageous abuse of power by a radical DA," whom he accused of pursuing "political vengeance against President Trump." McCarthy pledged to look into whether any federal funds were being used in the Manhattan prosecutors' efforts.
In a tweet, Sen. Eric Schmitt (R-Mo.) said the "reported upcoming arrest … is some Third World Banana Republic lunacy."
Sen. J.D. Vance (R-Ohio) said on Twitter that a Trump indictment would certainly not impact his endorsement of Trump in 2024.
Another staunch ally, Rep. Marjorie Taylor Greene (R-Ga.), tweeted that "if the Manhattan DA indicts President Trump, he will ultimately win even bigger than he is already going to win."
Greene added: "The base has had enough of Republicans that won't stand up for the people and against the Democrats war against Trump, his admin, his supporters, and traditional values."