"These Thugs and Radical Left Monsters have just INDICATED the 45th President of the United States of America," Trump wrote on his Truth Social platform, seemingly misspelling "indicted."
He went on: "THIS IS AN ATTACK ON OUR COUNTRY THE LIKES OF WHICH HAS NEVER BEEN SEEN BEFORE. IT IS LIKEWISE A CONTINUING ATTACK ON OUR ONCE FREE AND FAIR ELECTIONS. THE USA IS NOW A THIRD WORLD NATION, A NATION IN SERIOUS DECLINE. SO SAD!"
Trump also released a more even-keeled statement minutes prior, calling the development "Political Persecution and Election Interference at the highest level in history."
"The Democrats have lied, cheated and stolen in their obsession with trying to 'Get Trump,' but now they've done the unthinkable — indicting a completely innocent person in an act of blatant Election Interference," his statement read.
It concluded: "I believe this Witch-Hunt will backfire massively on [President] Joe Biden. The American people realize exactly what the Radical Left Democrats are doing here. Everyone can see it. So our Movement, and our Party – united and strong – will first defeat [Manhattan District Attorney] Alvin Bragg, and then we will defeat Joe Biden, and we are going to throw every last one of these Crooked Democrats out of office so we can MAKE AMERICA GREAT AGAIN!"
The grand jury voted Thursday to indict the former president in an investigation relating to his role in the 2016 scheme to pay Stormy Daniels $130,000 for her silence about an alleged affair she had with Trump.
A spokesperson for Bragg told HuffPost that the office contacted Trump's lawyer Thursday evening "to coordinate his surrender to the Manhattan D.A.'s Office for arraignment on a [New York State] Supreme Court indictment, which remains under seal."
"Guidance will be provided when the arraignment date is selected," the spokesperson said.
Trump did not appear to be expecting the news. On Wednesday, Trump said on Truth Social that he had "GAINED SUCH RESPECT FOR THIS GRAND JURY" because the panel had not yet voted to indict him. In mid-March, the former president posted a breathless, all-caps rant to his social media site predicting incorrectly that he would be arrested the following week.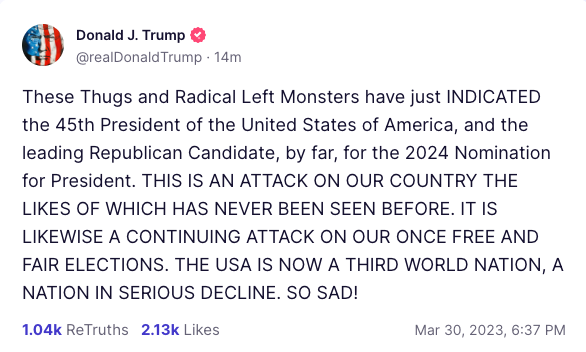 Prosecutors in New York had been investigating Trump and his business dealings for several years when Bragg breathed new life into the probe earlier this year.
In his statement, Trump reiterated his claim that Bragg was "hand-picked and funded by George Soros," a billionaire donor to progressive causes who has emerged as a Republican boogeyman and target of extremist conspiracy theories. (Soros and Bragg are only loosely tied, by way of a civil rights nonprofit dedicated to backing progressive candidates.)
Trump's former personal attorney and fixer, Michael Cohen, admitted to making the payment to Daniels in violation of campaign finance laws in the weeks leading up to the 2016 presidential election. Cohen was sentenced in 2018 to three years' imprisonment, serving part of it in home confinement.
Trump has always said he did nothing wrong in the matter. He admitted in 2018 that he reimbursed Cohen for making the payment, but denied that it was connected to his presidential campaign.
Trump also denied the affair with Daniels, although he appeared to acknowledge it occurred in a February post to Truth Social, where he wrote: "With respect to the 'Stormy' nonsense, it is VERY OLD & happened a long time ago, long past the very publicly known & accepted deadline of the Statute of Limitations."