WASHINGTON (AP) — America's employers added a substantial 311,000 jobs in February, fewer than January's huge gain but enough to keep pressure on the Federal Reserve to raise interest rates aggressively to fight inflation.
The unemployment rate rose to 3.6% from a 53-year low of 3.4%, as more Americans began searching for work and not all of them found jobs.
Friday's report from the government made clear that the nation's job market remains fundamentally healthy, with many employers still eager to hire. Fed Chair Jerome Powell told Congress this week that the Fed would likely ratchet up its rate hikes if signs continued to point to a robust economy and persistently high inflation. A strong job market typically leads businesses to raise pay and then pass their higher labor costs on to customers through higher prices.
Last month, the government reported a surprising burst of hiring for January — 517,000 added jobs — though that gain was revised down slightly to 504,000 in Friday's report. Consumers also ramped up their spending in January, suggesting that the economy had strengthened at the start of the year. The Fed's preferred inflation gauge also accelerated.
With February's sizable job growth coming after January's expansive gain, the Fed may accelerate its rate hikes to combat inflation. When the Fed tightens credit, it typically leads to higher rates on mortgages, auto loans, credit card borrowing and many business loans.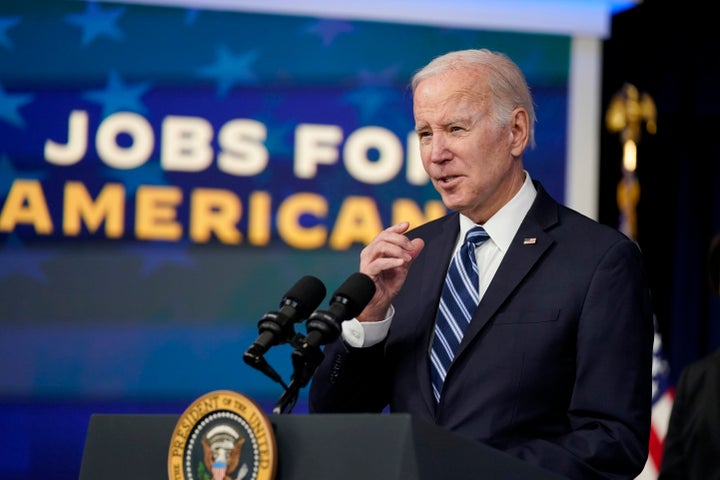 What the Fed may decide to do about interest rates when it meets later this month remains uncertain. The decision will rest, in part, on its assessment of Friday's jobs data and next week's report on consumer inflation in February. Last month, the government's report on January inflation had raised alarms by showing that consumer prices had reaccelerated on a month-to-month basis.
The vigorous job growth for January, reported early last month, was the first in a series of reports to point to an accelerating economy at the start of the year. Sales at retail stores and restaurants also jumped, and inflation, according to the Fed's preferred measure, rose from December to January at the fastest pace in seven months.
The stronger data reversed a cautiously optimistic narrative that the economy was cooling modestly — just enough, perhaps, to tame inflation without triggering a deep recession. Now, the economic outlook is hazier.
High borrowing rates have cratered the housing market, with home sales having dropped for 12 straight months, a consequence of the average mortgage rate nearly doubling over that time. Manufacturing is also showing signs of weakness. Higher rates have made it harder for businesses and consumers to borrow to buy major factory goods, from machinery to cars to appliances.
By contrast, spending for services — things like traveling, dining out and attending entertainment events — remains strong. Many Americans continue to engage in activities that were restricted during the COVID lockdowns.
Hiring at February's pace is about triple the level the Fed would prefer. Job gains of about 100,000 a month would be just enough to keep up with population growth and prevent unemployment from rising. A figure that low would also mean that employers weren't so desperate for workers and wouldn't have to keep raising wages.
Higher pay is great for employees, of course. But Fed officials say it is contributing to higher inflation, particularly in labor-intensive service industries like restaurants, health care and hotels.