CNN
 — 

Uber on Tuesday unveiled some new product features that aim to make it easier for you to find your ride at the airport.
The ride-hailing company said it was adding step-by-step instructions in the app to guide people through the airport and get them smoothly from the gate to their Uber pick-up location. The new instructions, which are available at over 30 airports around the world to start, feature photos that display what you will be seeing in the airport as you navigate to your ride.
In addition to helping riders and drivers find each other at the right place, the update also aims to reduce traffic congestion and idle time for drivers at the curb. Some of the US airports where this feature will be available include all three of New York City's main airports (John F. Kennedy, LaGuardia and Newark Liberty), as well as Los Angeles International Airport, San Francisco International Airport, Atlanta's Hartsfield-Jackson International Airport and Miami International Airport.
"With travel roaring back, we've been innovating on ways to redesign your airport experience from beginning to end so that you're not just getting to and from the airport, but also getting through it with less stress," said Jen You, head of product for rides at Uber, in a statement. "Our new series of products and features will help you plan for your upcoming trips and make your airport travel smoother than ever."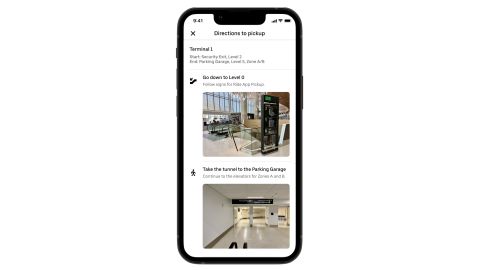 Uber

(UBER) also said Tuesday that it will soon roll out a new feature that includes a walking time estimate to help people more accurately plan how long it will take to get to baggage claim, and when to call their ride after deplaning. Finally, the company said it was expanding its Uber

(UBER) Reserve offerings (which lets users reserve a ride up to 90 days in advance) so that travelers can book flights, hotels and Uber

(UBER) rides for upcoming trips all at once.
The move comes just ahead of the busy Spring Break travel season, and after the Transportation Security Administration said last month that it is bracing for higher passenger volumes this spring as travel trends are starting to revert back to pre-pandemic levels.