CNN
 — 

Six months after US authorities in New York seized three metal swords and a stone axe head that had been stolen from Ukraine, the cultural artifacts were returned to the people they belong to.
The Ukrainian Embassy in Washington, DC, accepted the artifacts Friday, according to a Twitter post.
"Honored to host the repatriation ceremony of the ancient Ukrainian (artifacts) that had been stolen from Ukraine," the embassy said.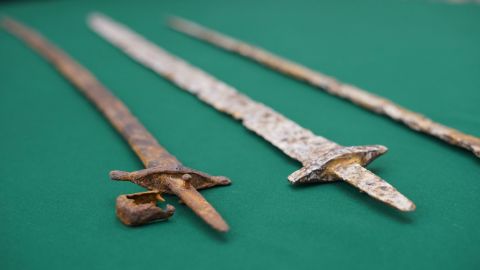 Ukrainian officials thanked US Customs and Border Protection officials "for helping (Ukraine) repatriate our cultural property and a part of our history," the post added.
The items were seized in early September by CBP officers working at the John F. Kennedy International Airport's International Mail Facility, according to a news release from the agency.
The CPB did not disclose how the items may have been stolen and when – but its announcement comes just weeks after the one-year anniversary of Russia's invasion of Ukraine.
The items arrived in two different shipments, a CBP spokesperson said.
The three swords that were attempted to be smuggled into the US arrived from Russia and the axe head from Ukraine, the agency said. All items were identified as "Ukrainian culture property" by Ukrainian authorities, it added.
"Today @CBP returned stolen cultural antiquities to the rightful owners, the people of #Ukraine," said Diane J. Sabatino, deputy executive assistant commissioner for CBP's Office of Field Operations.
"We are honored to return these artifacts to @Ukraine," Sabatino added.