Security guards at a Florida strip club are being hailed heroes after authorities say they disarmed a masked man who was attempting to enter the venue and potentially stopped a mass shooting.
Surveillance video taken early Sunday shows a man in a red and black devil mask appear to casually walk up to the Mons Venus club in Tampa with a gun and flashlight in his hands before a fast-acting security guard stopped him.
Police said Michael Rudman, 44, had two fully loaded magazines in his pocket as well as additional ammunition, knives and firearm accessories in his truck. The words "KILL" and "DARKK ONE" were written on his arms.
Security guard Manuel "Manny" Resto was standing outside the front entrance when he first noticed Rudman's truck blocking cars in the parking lot, he said.
When Rudman got out of the vehicle and approached him, Resto said, he thought it was "some kind of trick or a gag," perhaps related to Resto's former professional wrestling days as the "Puerto Rican Punisher."
"I was like, OK, it's not Halloween," Resto recalled at a press conference Tuesday.
Resto said he smiled at Rudman and was "waiting for the punchline" when he saw the man raise his hand to open the door, exposing a gun. Resto can then be seen grabbing Rudman in an attempt to wrestle the weapon away.
"I decided that he was not going to enter the club and hurt anybody," Resto said. "I was not going to let him win. He was not going to hurt nobody."
The gun went off, striking the venue's front door but not causing any injuries, police said.
Resto did manage to disarm Rudman, though the security guard said he was struck several times in the head with both the gun and flashlight and nearly lost consciousness. Video footage shows the pair wresting on the ground before two other people, reportedly also security guards at the club, jump in to help.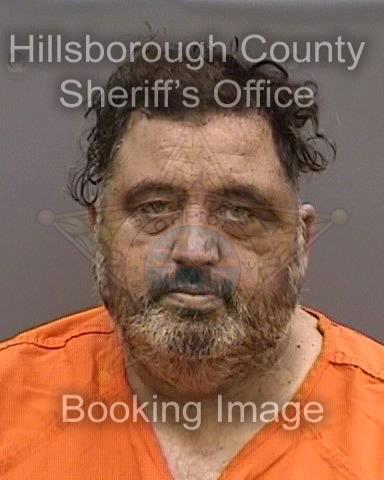 Tampa Interim Police Chief Lee Bercaw said he believes the security guards' actions likely prevented another mass shooting, recalling the 2016 massacre at Pulse nightclub in Orlando that left 50 people dead.
"The first thing that came to my mind was what happened in Orlando at Pulse, and having these two here to take that heroic action, could they have prevented something like that? I definitely think so," said Bercaw.
Rudman reportedly visited Mons Venus the night before without issue. It's not yet clear why he returned the next day with a weapon, or how he obtained the firearm, Bercaw said.
In the past, Rudman has been charged with domestic violence, battery, reckless driving and driving while under the influence. He's also been involuntarily detained under Florida's Baker Act law, which gives families the ability to institutionalize loved ones who are showing signs of mental health issues.
"The officers at the scene said he was so incoherent that he couldn't speak," Bercaw said.
Rudman was ordered held without bond on charges of aggravated assault with a deadly weapon, battery, aggravated battery with a deadly weapon, and purchasing, possessing, or receiving a firearm while under a risk protection order. Bercaw said he's likely to face additional charges.
"We will continue to actively and thoroughly investigate this case to get a better understanding of what led up to this thwarted incident," he said in a statement.
Rudman was not listed as having an attorney.