With her stint in Broadway's "Six" now behind her, Samantha Pauly is ready to delve into new sonic territory and forge ahead with her next creative chapter onstage.
The New York actor and singer gave HuffPost a sneak peek at her residency concert, "An Evening with Samantha Pauly," with a tender performance of Dua Lipa's 2019 hit, "Don't Start Now."
"I think the lyrics are a great mirror to what I've gone through over the last year while also navigating being a leading lady on Broadway," Pauly told HuffPost. "I wanted to slow the song down and strip it back to focus on the words and how they make me feel. Her lyrics challenge the person she's singing about, and I think that's why I love the song."
Catch Samantha Pauly's performance of "Don't Start Now" below.
In addition to "Don't Start Now," other highlights of Pauly's set include her versions of Ariana Grande's "God Is a Woman" and "Don't Cry for Me, Argentina" from "Evita." Her March 27 show will feature fellow "Six" performer Keri Rene Fuller and actor Heath Saunders, who recently appeared in the Tony Award-winning revival of "Company," as special guests.
Pauly, an Iowa native, officially made her Broadway debut in the fall of 2021 as Katherine Howard in "Six," which reimagines Henry VIII's six wives as pop stars. The musical was originally slated to open on Broadway on March 12, 2020, but saw its premiere postponed for about 18 months due to the COVID-19 pandemic.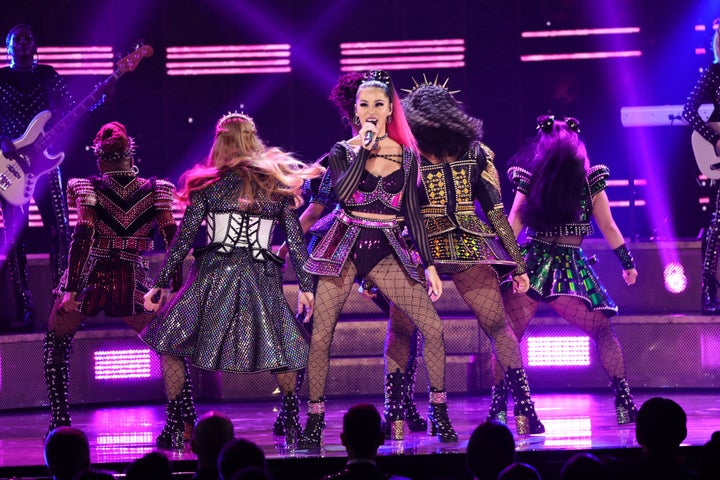 Pauly left the cast of "Six" in January, and says that readjusting to a less demanding schedule has been "lovely." Headlining her own concert, meanwhile, has given her the opportunity to "just fully be myself ― candid, vulnerable, and honest."
"I'm a human just like anyone else," she explained. "I struggle with mental health, body dysmorphia, imposter syndrome. I think it's so incredibly important for individuals in my position to be candid and open about the ups and downs in their lives, especially coming from a show like 'Six,' that has a very young fan base. I'd like for people to see what other things I can do vocally, that's always nice. But I try to avoid anything that's too performative, especially because I know how much it means to fans and audience members when they can see themselves reflected onstage."
As for performing at Chelsea Table + Stage specifically, she added, "What I love about the setup specifically is that I get to be very up close with the audience. I don't want this to feel as big as Broadway, because it simply isn't."