CNN
 — 

The Alabama Crimson Tide will begin their March Madness journey on Thursday when they face the Texas A&M-Corpus Christi Islanders in the opening round.
Alabama will be heavy favorites against No. 16 seed Texas A&M who beat the Southeast Missouri State Redhawks 75-71 in their 'First Four' match-up at this year's NCAA men's tournament.
And although the team enters the tournament having been named the No. 1 seed for the first time in the school's history, it comes against a backdrop of a tumultuous season off the court.
The team's star player, Brandon Miller – slated to be picked near the top of June's NBA draft – was a "cooperative witness" in a fatal shooting which took place on the Alabama campus in January.
Here's everything you need to know ahead of the beginning of the team's tournament:
In January, former University of Alabama basketball player Darius Miles and co-defendant Michael Lynn Davis were arrested and charged with capital murder in the shooting death of Jamea Jonae Harris near the university campus.
Davis is accused of firing the shot that killed Harris while Miles allegedly aided and abetted him, CNN has reported.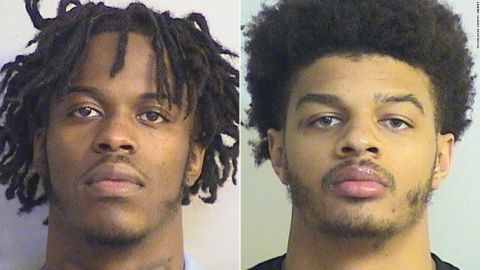 A law enforcement officer testified that Miles had texted Miller to bring Miles' gun to the scene where the shooting happened, according to CNN affiliate WBMA.
Miller is not charged with any crime. CNN has reached out to Miller for comment.
The Alabama athletic department said in February that Miller is "not considered a suspect … only a cooperative witness" in the murder case.
Both Miles and Davis appeared in a Tuscaloosa court in February for a bond hearing, court records show. District Court Judge Joanne M. Jannik denied each of their motions to set bond, court documents show.
Miller spoke for the first time since the shooting last week, calling it "heartbreaking."
"I never lose sight of the fact that a family has lost one of their loved ones that night," Miller told reporters. "This whole situation is just really heartbreaking but respectfully, that's all I'm going to be able to say on that."
Since being allowed to return to the court, Miller has faced boos and jeers from opposing fans, something he says he has noticed.
"We hear the chants. I feel like we just really lean on each other to go to places like that and pull out tough wins," he explained.
On February 23, Miller scored a career-best 41 points against South Carolina just hours after the school said he would remain an "active member" of the team while law enforcement continues to investigate the shooting. The 41 points were the most by a freshman in Alabama history.
After the win over South Carolina, Alabama coach Nate Oats rowed back on previous comments he had made about Miller's connection to Harris' death, including that the 20-year-old "hasn't been in any type of trouble, not is he in any type of trouble on this case."
"I used a poor choice of words, making it appear like I wasn't taking this tragic situation seriously, which we have throughout the course of it," Oats told reporters. "I sincerely apologize for that."
Explaining the decision to allow Miller to play, Oats said: "We make decisions based on available facts and that's what we did here."
He also called the forward "one of the most mentally tough kids I've ever coached" after Alabama's win.
Miller was chosen as the Southeastern Conference (SEC) player and freshman of the year by the league coaches last week.