Gift cards are a popular last-minute present many of us purchase. But the ones bought off the rack are also a common tool scammers use to exploit people.
In 2021, the Federal Trade Commission reported that gift cards were the top payment method for scammers, leading to a reported $148 million stolen from consumers.
Here's how the physical gift card scheme typically works: Scammers will target display racks of gift cards, especially when the rack is out of sight from cashiers or pharmacy counters, explained Kathy Stokes, director of fraud prevention programs with AARP, an interest group which educates older adults about protecting their assets from scams and fraud.
They will then tamper with the packaging to take off any film strip, record the gift card and pin number, and then cover up their tampering. Some scammers have even used fake barcodes as a sticker covering up the gift card's real barcode.
Then, "they set up a computer program that has an algorithm that follows those cards. And when any of those cards are manipulated like that go to the register for activation, that criminal is pinged, and they are able to drain the funds off of that card," Stokes said.
In other words, when you buy and put money on a compromised card, the scammer can spend or transfer the funds before you or your gift recipient can use it.
Why do scammers love gift cards? It's because it's quick cash and because gift cards are not as protected as other forms of payment. Stokes explained that banks must help you get money back from unauthorized transactions on your debit and credit cards, but "that's not the same with gift cards because they're not under a regulation called the Electronic Funds Transfer Act. They don't have those protections."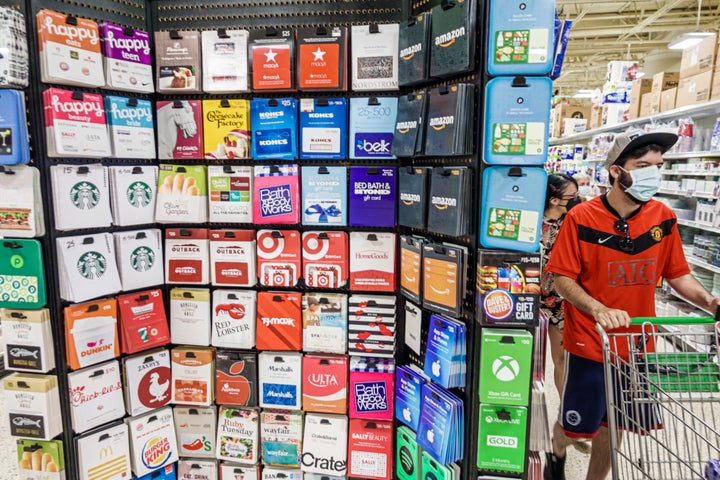 If funds on your gift card have been fraudulently used, it's not a guarantee that you will be able to get the money back from a retailer, as many frustrated consumers who bought gift cards with invalid balances can attest.
"It's up to the goodwill of the retailer," said Adam Levin, a co-host of the podcast "What the Hack with Adam Levin" and a former director of consumer affairs for the state of New Jersey. He noted that without a gift card receipt, it can be particularly hard to prove that you were a victim of fraud because the retailer may say, "Well, how do we know that you didn't just spend it somewhere and tear up the receipt?"
Here's why you should avoid the first physical gift card on a display rack.
Experts said if you can avoid buying the first gift card you see in the front of a store's display rack.
"I still buy cards," Stokes said. But when she buys a physical card, she said, "I'll pull everything off that rack and grab ones from the last third, thinking if they pull things off, they probably didn't pull them all off."
"Usually, the people that are going to tamper with cards, they're going to come by and do it as fast as possible in the front," Levin said.
Better yet, try choosing gift cards that are under the watchful eye of a cashier. "If it's behind the cashier, you've got a much better shot of having a card that has not been tampered with," Levin said.
Buying a gift card online from reputable retailers can also help you avoid physical tampering, experts said. Still, it will not guarantee you are fraud-free, either, if that online gift card's database is ever breached.
Or you can give money the old-fashioned way. "Take cash, put it in an envelope, and hand it to the person," Levin said. "Or just buy them the gift."
More tips for avoiding gift card scams and getting lost money back.
Physically check the card for tampering. Make sure you do not see any wrinkles or tears on the gift card and double-check that the pin code is not exposed, Levin said.
Confirm the balance and hold on to the gift card receipt. Stokes said to look at the gift card activation receipt and see if the number on the gift card matches the number on the receipt.
And don't lose that receipt. "Always keep your receipt, which will show the balance you purchased, and then if you try to use it and you find out it's zero, you immediately go back to where you bought it and show it to them," Levin said.
Use it right away. Too often, we leave gift cards lying around, which creates more opportunities for your gift card to get scammed.
"If it sits at the bottom of your purse or in a drawer for months on end, it just gives the criminals that much more time to manipulate and take the dollars off," Stokes said.
Register the gift card. Some retailers allow you to register your gift card and track the funds on it, Stokes said.

Be wary of anyone saying they need you to pay for something via a gift card. About one in four consumers who reported losing money to fraud said they lost it through sharing the numbers on the backs of their cards, another common type of gift card scam.
These scammers often pressure people on the phone to buy gift cards and share the numbers to pay for a fake obligation, like an unexpected bill or taxes. "If they can get you excited or scared, or some heightened emotion, they can get you to pretty much believe anything," Stokes said.
As the FTC states, "Gift cards are for gifts, not for payments. If someone convinced you to give them the numbers on a gift card or send them a photo, hang onto the card and your receipt, and report it to the card issuer right away."
Call the retailer immediately if you believe you're a victim of fraud. Levin recommends contacting the retailer about the misuse of your card once you realize what has happened to attempt to get the funds back. "Doesn't mean you're always going to win, but at least it keeps you in the game," he said.
In 2021, the FTC said that consumers reported more money lost to fraudulent gift cards at Target than any other store, with Google Play, Apple, eBay and Walmart also being top brands where scammers target shoppers. The FTC has a list of contact information for gift card companies through which you can talk to a representative.
For Target, call its GiftCard Services number at 1-800-544-2943 and follow the instructions.
For Amazon, call 1-888-280-4331.
For iTunes, call Apple Support at 1-800-275-2273. Say "gift card" to connect with a live representative.
For Google Play, report the gift card fraud to Google in this online form.
For eBay, chat with an assistant.
For Walgreens, call 1-877-865-9130. "Be prepared to provide a copy of your purchase receipt and images of the front and back of the card(s)," its website states.
For Walmart, call the Gift Card Customer Service Hotline at 1-888-537-5503.