Editor's Note: Monthly Ticket is a CNN Travel series that spotlights some of the most fascinating topics in the travel world. In March, we're heading to the great outdoors.


CNN
 — 

America's least-visited national park is quite a distance from mainland US shores. Almost 5,000 miles away, in fact.
The National Park of American Samoa in the South Pacific is the only National Park Service site south of the equator. In 2022, it had just 1,887 visits, according to new visitation figures released this week by the National Park Service.
Compared with 2021, that number is down by 78%. The park had several Covid-19 closures last year, NPS said.
The national park stretches over three islands with tropical rainforests, volcanic slopes, pristine beaches and thousands of acres of marine habitat, and it's interwoven with a rich culture.
"In keeping with the meaning of the word Samoa – 'sacred earth' – the park helps protect fa'asamoa – the customs, beliefs, and traditions of the 3,000-year-old Samoan culture," the park's website says.
The island park is far from the only uncrowded NPS site.
Nearly 400 of the 424 National Park Service sites count visitors. And three quarters of all visits are to just 64 sites. So there are lots of less-visited spots to explore.
Even among the 63 natural expanses that have "national park" in their proper names, there are parks where visitors number in the thousands or tens of thousands – far short of the nearly 13 million that visited Great Smoky Mountains National Park in 2022. It was the most visited of the 63 national parks last year.
The vast state of Alaska – which covers 665,384 square miles – is home to five of the 15 least-visited national parks in 2022.
"Alaska's national parks are some of the least visited for a good reason – they are hard to get to," said Peter Christian, chief of public and legislative affairs in the National Park Service's Alaska Region
But while they may be sparsely visited compared with other parks, several of them saw substantial jumps in visitor numbers last year, with increases of 30% to 50% over 2021, another step toward recovering from dramatic pandemic declines.
And one Alaska park that was among the least visited in 2021 – Glacier Bay National Park and Preserve – has catapulted out of the list with a 500% increase in visitors, thanks to a more robust return of cruises. But visitation still hasn't reach pre-pandemic levels, Christian said.
With more and more travelers heading out for the busy spring and summer seasons, the least-visited national parks have a lot to offer those who venture off the most well-worn paths.
1. National Park of American Samoa – 1,887 recreation visits
Most parkgoers will need a passport to visit this spot in a remote part of the South Pacific. Hawaiian Airlines offers direct flights to American Samoa twice a week from Honolulu. Covid-19 travel requirements were relaxed at the end of last year, and the first cruise ship in three years arrived in January.
The park has units on three islands and stretches across 13,500 acres, some 4,000 of which are marine acres that are mostly coral reefs.
2. Gates of the Arctic National Park & Preserve, Alaska – 9,457 recreation visits
With no roads, no trails, no cell service and no established campsites, this massive expanse is a true wilderness experience. The park and preserve has six designated Wild Rivers.
"Visitors may wander at will across 8.4 million acres of superlative natural beauty," the park's website says. Visitors must be self-sufficient, flexible and "able to execute self-extraction and communication, should an emergency situation arise." Arrive prepared.
3. Kobuk Valley National Park, Alaska – 16,925 recreation visits
There are no roads, campgrounds or entrance gates for this 1.8 million-acre expanse's human visitors. Half a million caribou migrate through this park, crossing the Kobuk River and Onion Portage, according to the National Park Service. An 8,000-year tradition of hunting caribou here continues today.
4. Lake Clark National Park & Preserve, Alaska – 18,187 recreation visits
Stretching across more than 4 million acres, this national park and preserve is home to three designated Wild Rivers and two National Natural Landmark volcanoes. The land holds 10,000 years of human history and preserves the ancestral homelands of the Dena'ina people.
5. Isle Royale National Park, Michigan – 25,454 recreation visits
An isolated archipelago in Lake Superior, Isle Royale boasts 165 miles of trails and more than 30 campgrounds. It's open from mid-April through the end of October. Ferry and seaplane service typically runs from mid-May through the end of September, according to NPS.
There are fewer mammal species here – only 18 – than on the mainland because animals must cross at least 14 miles of Lake Superior. Wolves and moose are among the notable animal residents.
6. North Cascades National Park, Washington – 30,154 recreation visits
Peaks crowned by more than 300 glaciers tower over this alpine landscape. More than 1,600 species of plants have been identified on this land that spans temperate rainforest to a dry ponderosa pine ecosystem. There are more than 400 miles of trails.
7. Katmai National Park & Preserve, Alaska – 33,908 recreation visits
Katmai is an important habitat for thousands of brown bears. One of the world's premier bear-viewing spots, according to the Park Service, Katmai is home to an estimated 2,200 brown bears. Brooks Camp along the Brooks River is one of the most popular viewing spots to observe bears feasting on salmon.
8. Wrangell-St. Elias National Park & Preserve, Alaska – 65,236 recreation visits
America's largest national park, Wrangell-St. Elias encompasses 13.2 million acres – or about the size of Yellowstone National Park, Yosemite National Park and Switzerland combined, the Park Service says. Most of the park is backcountry, and visitor services are limited. There are some maintained trails in the frontcountry Nabesna and McCarthy areas.
9. Dry Tortugas National Park, Florida – 78,488 recreation visits
About 70 miles (113 km) west of Key West, Dry Tortugas is mostly open water with seven small islands. Garden Key is home to one of the nation's largest 19th-century forts, Fort Jefferson. The park is accessible by boat or plane and is host to nearly 300 species of birds. Bush Key closes every year from February to September so that sooty terns and brown noddies can breed there undisturbed.
10. Great Basin National Park, Nevada – 142,115 recreation visits
Mountain peaks meet hot desert valleys here. Great Basin National Park is home to 13,063-foot Wheeler Peak, ancient bristlecone pines, about 40 caves and a wide array of plants and animals. The elevation ranges from 5,000 to 13,000 feet with hiking trails for all levels.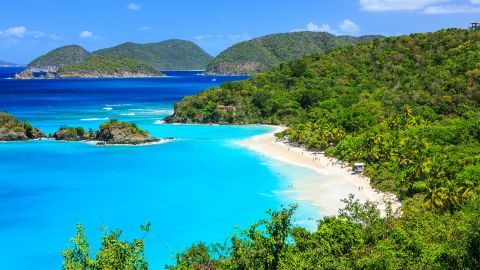 11. Virgin Islands National Park – 196,752 recreation visits
About two thirds of the US Virgin Island of St. John is national park, with sandy beaches, rich marine life, petroglyphs from the indigenous Taino people and sites related to the island's troubled history of enslaved labor. There are more than 20 trails in the park, which is typically busiest from November to April.
12. Congaree National Park, South Carolina – 204,522 recreation visits
Congaree National Park's landscape is "defined by the presence of both flood and flame," the Park Service says.
Floodwaters from the Congaree and Wateree rivers regularly cover the park's old-growth bottomland hardwood forest, and the upland pine forest depends on wildfires to clear out competing vegetation. Canoeing and kayaking are popular ways to explore the park. There's a 15-mile marked canoe trail.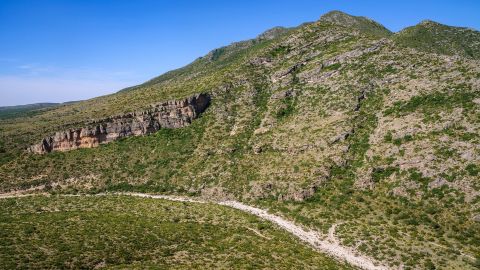 13. Guadalupe Mountains National Park, Texas – 219,987 recreation visits
This park boasts the four highest peaks in Texas and the world's most extensive Permian fossil reef. Guadalupe Mountains Wilderness has more than 80 miles of trail including a hike in the Salt Basin Dunes that rise 100 feet from the desert floor.
14. Voyageurs National Park, Minnesota – 221,434 recreation visits
Billed as a park of "water, islands and horizons," Voyageurs covers 218,055 acres – 84,000 of which is water. There are more than 500 islands and four large lakes, plus more than two dozen smaller lakes in the park, which is best experienced by boat. Voyageurs shares its northern boundary with Canada, and lucky visitors may even see the northern lights.
15. Pinnacles National Park, California – 275,023 recreation visits
Pinnacles was formed when volcanoes erupted some 23 million years ago. Talus caves and towering rock spires draw hikers and climbers; there are more than 30 miles of hiking trails and hundreds of climbing routes.
While Pinnacles may rank among the 15 least-visited national parks, it gets very busy on weekends, holidays and throughout the spring, according to a notice on the park's website. Arrive early to beat the crowds.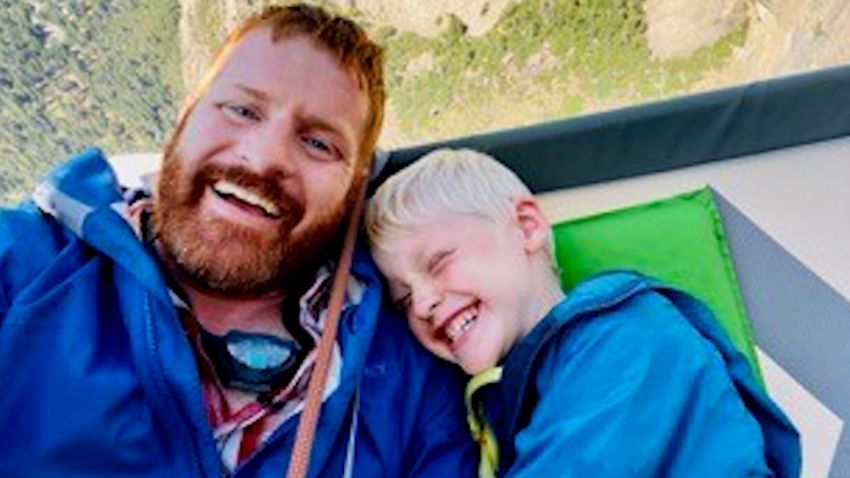 CNN talks to 8-year-old climber from the side of El Capitan